Pittsburgh Ballet delights with 'Dracula'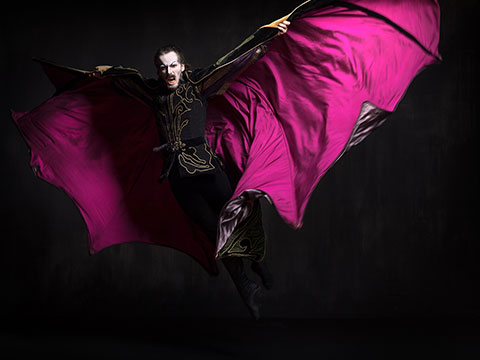 LAUREN SOVISKY
staff writer
While Halloween is often a night of scary movies and tasty treats and tricks, a ballet can also be a contender of haunting events.
The Pittsburgh Ballet's "Dracula" was a dazzling horror story brought to the stage.
In the span of about two hours at the Benedum Center in downtown Pittsburgh, Dracula lived, thrived and was defeated.
Through three acts, some incredible lifts and unique pyrotechnics, a packed audience was told Bram Stoker's Gothic novel.
A vicious bloodsucker, played by Alejandro Diaz, terrorizes Transylvania and tries to separate the love of the two main soloists, Svetlana and Frederick, portrayed by Alexandra Kochis and Luca Sbrizzi.
Act 1 opens in Dracula's crypt as his undead wives, nearly 20 of them, set the mood with zombie-like movements.
As Dracula was lifted and began flying through the air, the smoke began to rise off the stage and Halloween quickly took hold of the theater and stayed with each change of the detailed set.
As with any ballet, some routines seemed to last forever. Namely the most impressive performance was by Dracula's henchman, Renfield, played by Masahiro Haneji, as he crouched and crab walked from place to place, mastering mesmerizing solos that required fierce jumps and concentrated turns.
His energy contrasted the menacing Dracula as his movements were steady and signaled his power within each scene.
Upon purchasing tickets, a warning was posted stating pyrotechnics and strobe lights would be used during the performance.
While the strobe lighting use was easy to spot with each crack of thunder and the pounding lightning that followed it, by Act 3, no use of pyrotechnics had been spotted.
It wasn't until Dracula's death that he and a chandelier exploded on stage, blinding the audience with the bright, fiery surprise.
Bringing the old nightmare to the stage was no easy feat, but was impressively produced by the Pittsburgh Ballet.
As their first performance of the season, they opened on a scary note, leaving all audience members fearing what they would run into on their walk back to their car.
LAUREN SOVISKY
[email protected]