Gannon loses chance to tie on deflected field goal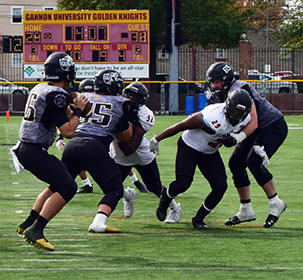 The Gannon University football team had a very special look over the weekend in its tough 38-35 loss to California University of Pennsylvania.
Not only was Saturday's game a hard-fought outing with one of the better teams in the Pennsylvania State Athletic Conference (PSAC), but the Knights were wearing their alternate camo uniforms for the matchup at McConnell Family Stadium.
This was due to the fact that the game was played on their Military Appreciation Day. It's always special for the university to recognize the men and women of the service along with Gannon students who have either been enlisted or plan to in the future.
Saturday's loss, which left Gannon with a 1-3 conference record and an overall mark of 3-5 going into Saturday's noon road matchup against Indiana University of Pennsylvania, could have gone either way.
In fact, the Knights were in a position to tie the game when kicker Karch Holland set up for a 43-yard field goal with 30 seconds left. But Cal U's Cameron Tarver tipped the kick to preserve the win for the Vulcans, who improved to 6-2 overall and 3-2 in PSAC play.
The Knights got another stellar effort from standout running back Marc Jones, who continued his dominating season as he claimed his eighth straight 100-yard plus rushing game.
Jones finished with 171 yards to officially carve his name in Gannon's record book as he set the single-season rushing record and also established a new standard for all-purpose yards in a season.
Jones increased his rushing total to 1,711 yards to break the previous mark of 1,628 held by Brock Jones. Marc Jones also now has 1,953 all-purpose yards, which eclipsed Brock Jones' old mark of 1,826, set in 2014.
Marc Jones' only touchdown came on a fierce 5-yard run in which his helmet flew off midway through reaching the end zone. That touchdown would pull Gannon to within three points at 31-28 late in the third period.
The teams went back and forth in a flow of momentum after each big play from the start. Cal U would claim this momentum first by playing in a sneaky coverage to undercut one of quarterback Jimmy Keefe's passes and return it for a 26-yard touchdown.
But the Knights' starting quarterback and the rest of his offense would not stay down on their home field, firing back with Tyler Palka's 13-yard touchdown run just four minutes later.
The Vulcans answered with two more scores – both coming via the air as quarterback Michael Keir hit Craig Thompson on a 30-yard scoring pass and then connected with Tom Greene on a 70-yard strike to boost their lead to 21-7 with 2 minutes to play in the first quarter.
Palka responded by hauling in a 29-yard touchdown pass from Keefe early in the second period in which he bounced and spun off a defender, but Cal U again added two more scores — one on Will Brazill's 18-yard field goal and Keir's third touchdown pass of the day — to make it 31-14 midway through the second quarter.
Keefe kept the Knights hopes' alive, however, as he drove the team 85 yards in six plays and capped it by connecting with redshirt senior Brenden Klemensic, who took the pass 47 yards for his first touchdown of the season. That cut the gap to 31-21.
Gannon's defense came out strong in the second half, enabling the Knights to close the gap.
A new star was shown on the defensive side with sophomore Noah Harris-Lyles, who was feasting in the backfield with three sacks and a big tackle for a 5-yard loss on second-and-five in the third quarter.
Cal responded to Jones' touchdown run with Keir's fourth touchdown pass but Keefe connected with Dontae Owens on a 9-yard scoring pass with 7:20 to play in the game to pull Gannon within three at 38-35.
Gannon forced a punt on Cal U's next possession, and that led to a drive that ended in Holland's defelcted field goal.
Gannon finished with a 28-21 edge in first downs and outrushed Cal U 233-11. But Keir outdueled Keefe in the aerial game, throwing for 435 yards to Keefe's 313. Palka caught eight passes for 145 yards while Klemensic finished with 75 yards receiving on three catches and Owens had 74 yards on five grabs.
The Knights will look to play spoilers Saturday when they take on IUP. The Crimson Hawks, 8-0 overall and 5-0 in PSAC play, are ranked No. 4 in the American Football Coaches Association Division II coaches' poll and No. 2 in the D2Football.com poll.
MATTHEW NEWARA
[email protected]