Volleyball's eight-game win streak comes to an end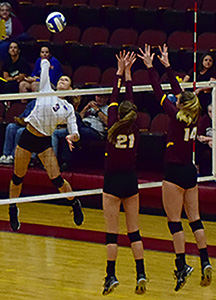 The Gannon University volleyball team saw its impressive eight-game winning streak come to an end over the weekend as it split two Pennsylvania State Athletic Conference matchups.
The Knights held a 2-1 lead Friday on the road against Edinboro, only to see the Fighting Scots tie the match and force a fifth set, which the home team won, 15-12.
The following day, Gannon got back to its normal winning ways by sweeping Slippery Rock, 25-15, 25-17, 25-21.
On Tuesday, the Knights traveled to Fairmont State for a nonconference match and came away with a 3-0 win. The victory left Gannon 20-4 overall and the Knights will bring a 9-2 PSAC record into this weekend's home set against Kutztown and East Stroudsburg.
Friday's match against Kutztown will start at 7 p.m., and Saturday's battle with East Stroudsburg is scheduled to begin at 2 p.m. Both matches will be played at the Hammermill Center.
On Friday, Gannon dropped the opening set, 25-21, then took the next two, 25-17 and 25-22, before Edinboro rebounded to claim a 26-24 win.
The Scots then won the deciding set, 15-12.
Gannon coach Matt Darling spoke on the difficulties of playing a rivalry game away.
"They clearly made good use of these emotions, beating us in a match that they really, really needed to win," he said of Edinboro.
"Clearly, I didn't do what I need to do for the players to be ready to handle the pressure."
The second set went back and forth and featured nine ties before Gannon took the lead for good with a kill by redshirt senior Rebekah Smith.
A three-point swing all provided by Kelsey Ansec pushed Gannon's lead to 23-16 and Gannon clinched the second set on a 12-4 run.
The third set was tight again, featuring ties at 11 different points in the contest. Gannon would snap the final tie with another kill from Ansec before an Edinboro attack error and service ace by sophomore Ally Smith gave the Knights a 2-1 set lead.
In the fourth set, Gannon owned a one-point lead on eight different occasions until opening an 18-14 advantage on an attack error. But Edinboro rebounded while down 20-16 to knot the set at 21 before two consecutive critical attack errors gave Edinboro a 26-24 win.
In the decisive fifth set, Gannon and Edinboro saw several momentum swings where the Fighting Scots wouldn't claim the lead for good until the scoreboard read 10-9.
Edinboro followed with five of the next eight points to capture final set, 15-12, and take the overall match 3-2, ending Gannon's eight-game winning streak.
Darling was unsure how the end of the winning streak would affect the Knights going forward.
"This team seems intent on doing things the most difficult way possible, so maybe this is part of their plan to increase the drama or something," he said.
Ansec led the Knights with 22 kills while Rebekah Smith had nine and Toni Leitshuh finished with eight.
Carolyn Knollman contributed 36 assists while Sara Crandall collected 22 digs.
On Saturday, Gannon rebounded to whip Slippery Rock in straight sets.
The Knights took and carried early momentum on their way to an easy 25-15 opening-set victory, and they used a 9-1 run midway through the second set to cement a 25-17 victory.
In the third and final set, Gannon squeaked out a 25-21 win to capture the overall match.
Ansec's 15 kills led the way while Rebekah Smith finished with 11. Ashley Beyers topped the assist category with 22, and Crandall had 28 digs. Maggie Wilhelm led the team in blocks with five after sharing the team lead with Ashley Kerestes at four against Edinboro.
The Knights return home Friday against Kutztown at 7 p.m. and will host East Stroudsburg at 2 p.m. Saturday.
MATTHEW FASSNACHT
[email protected]