KATHRYN HAMILTON
staff writer
I'm sure everyone, male or female, has dealt with the situation I am about to describe.
You walk into a family gathering or event, feeling great about your outfit choice for that day only to have "that family member" make a remark along the lines of "I hope you didn't pay full price for that."
Their wise remark is normally regarding a pair of ripped jeans, a cropped top or even a shirt that has that trendy distressed look to it.
In the last year, a whole new trend has emerged for that aunt, uncle, parent or grandparent to comment on: cold shoulder cut outs.
This trend, while normally seen in shirts, has also been popping up in dresses and even sweaters.
Tops and dresses with this trend normally feature a traditional sleeve with the shoulder area cut out of it, giving it the name "the cold shoulder."
This trend is great because it fits all tastes, and it is a little bit revealing, but you can also make it modest by wearing it with a sweater, long sleeve or high-necked top.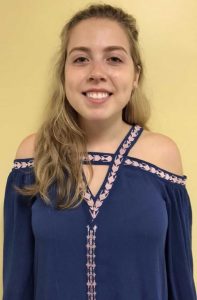 Freshman physician assistant major Jessi Hanhilammi (above) can be seen around campus wearing this trend in the form of a blue shirt with a pink Aztec type stitching down the center and around the neckline.
This shirt also has a strapped neckline, which has also emerged as a trend in the past few months.
In describing why she chose to purchase this shirt, Hanhilammi said, "I liked how it had a different type of neckline. Like it's not completely off the shoulder. I'm not sure how to exactly explain it. And I liked the color combination."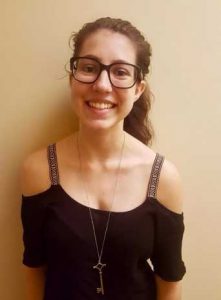 Emily Hall, a freshman criminal justice major, is shown above wearing a black, cold shoulder top that features a beaded Aztec design on the straps.
When asked why she chooses to have this garment in her wardrobe, Emily said, "The shirt was actually given to me by a close friend. I really like the shirt because the cut of the sleeves and the print on the straps are a nice touch and make the shirt interesting."
All in all, it seems this is a trend that students think is really interesting and a change from a typical shirt.
I think this is a trend that is here to stay, and it is just going to keep popping up in more and more stores.
Story continues below advertisement
KATHRYN HAMILTON
[email protected]