Chaos rises at Basement Transmissions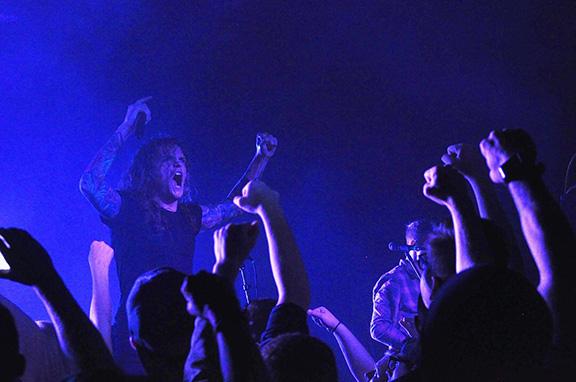 BAILEY MERRITT
staff writer
For all you metal heads, Basement Transmissions, a concert venue located only a few streets from campus, is right up your alley.
Make sure to check out its Facebook page for tons of upcoming concerts involving underground rock, metal and rap artists.
Tickets are reasonably priced and the safe, small venue gives a sense of unity between the crowd and the artists.
The Chaos Rising Tour invaded Basement Transmissions on Sept. 8, bringing nothing less than its name stated.
The lineup included Lorna Shore, Capsize, Ice Nine Kills and the headlining band, Miss May I, along with several local bands.
As some favorite local bands (Mallory Run, Raven's Law and Ashes of a Generation) opened the show, the crowd's energy surged with anticipation.
Lorna Shore's deathcore style drew in the moshers and ragers.
Next up was the California native band, Capsize.
Due to issues with the sound booth, their set was cut short. Nonetheless, Capsize's post-hardcore angsty style picked up the crowd to a more upbeat jam.
Basement Transmissions was completely overtaken by smoke during Ice Nine Kills set.
The self-proclaimed "theatricore" group captivated the crowd with a dramatic performance.
At one point, vocalist Spencer Charnas climbed on top of the spectators' heads, to which fans reacted with a scrambling excitement to take part in holding him up in the air.
As Miss May I entered the stage, the room roared and bounced.
Though they were technically touring their newest album "Shadows Inside," Miss May I threw it back with fan-favorites like "Hey Mister" and "I.H.E."
The show was closed out with "Relentless Chaos" as an encore, to which the Chaos Rising Tour lived up to its name, circle pit and all.
Overall, this show was unique to any other I have personally attended at Basement Transmissions.
With the interesting light and smoke effects, all the way to an official tour T-shirt at Miss May I's merch table, this show brought such a range in fans and metal genres.
Being able to get so close to the stage gives such a personal connection between each person in the crowd and the performers — many band members even join the crowd after their set.
With several new events every week, Basement Transmissions is the place for anyone looking to enjoy a smaller-scale rock, metal, or rap show.
BAILEY MERRITT
[email protected]