Artpark to end season with BIG BANG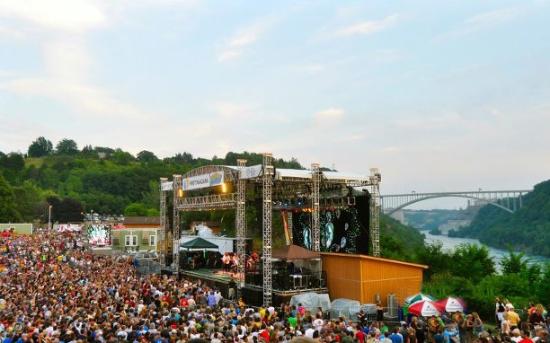 As the days get shorter and the weather gets colder, the season for outdoor concerts will soon be over.
Before that time comes, Artpark, an innovative outdoor venue located about 6 miles from Niagara Falls in Lewiston, N.Y., plans to go out with a big bang – literally.
Artpark will round off its summer season with the BIG BANG performance on Sept. 2, presented by the globally renowned street theater and art company, Plasticiens Volants, along with a musical performance from William Close and the Earth Harp Collective.
Known for their elaborate displays of inflatable balloons and giant puppets, Plasticiens Volants have gained world recognition for their ability to bring visual art to life and will display their BIG BANG show in the U.S. for the first time at Artpark.
William Close, an innovative musician who creates a unique experience with his own architectural music instruments, has played at venues like Coachella, Burning Man and NBC's "America's Got Talent."
The BIG BANG event at Artpark will be held at 6 p.m. on Sept. 7. Tickets for the event are available to purchase at www.artpark.net/events/big-bang.
Although Artpark's summer season will be culminating with the BIG BANG event, the venue also has a couple of other concert events that are scheduled in the near future.
American indie-pop act Bleachers is set to headline Artpark on Sept. 8, followed by the heavy metal band Danzig on Sept. 12.
Bleachers, aka Jack Antonoff, is a songwriter, record producer and former band member of the popular indie pop band Fun..
Antonoff, under the stage name Bleachers, recently released his sophomore album titled "Gone Now," which features the hit single "Don't Take the Money."
Danzig, formed in 1987 in Lodi, N.J., recently released their first studio album in seven years. The album, titled "Black Laden Crown," is the 11th album project released by Danzig.
For ticket information about all of the remaining Artpark events, visit www.artpark.net/events.
Visit www.rafflecopter.com/rafl/display/3b44748e23/?widget_template=5769f0ae04f50f8c0cf21a6c for a chance to win tickets to Artpark's BIG BANG event through Aug. 29.
OLIVIA BURGER