Welcome to Gannon, first-year students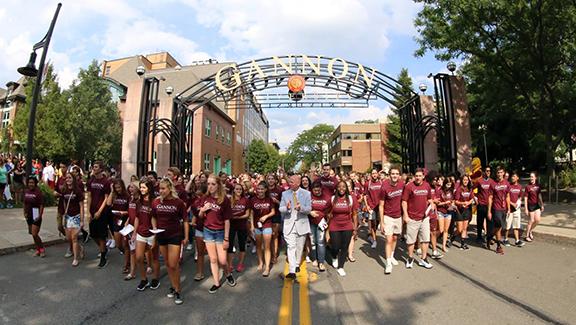 To new students coming to Gannon University in the fall: Congratulations! The fact that you are picking up or scrolling through this newspaper to read this special Orientation edition of The Gannon Knight is an indicator that you are more likely to be successful at Gannon.
Specifically your willingness to engage in an orientation program makes you more likely to succeed in college. Parents, guests and other supportive adults in the lives of these new students can also take heart in this encouraging statistic from the field of higher education research.
Students and guests participating in Orientation can expect to be immersed in the Gannon experience. Walking between classrooms and buildings, designing a schedule that interests you, enjoying local dining options and more will help you settle into your new campus home.
You may also be staying in a residence hall, beginning to dream about the meaningful relationships for yourself or for your student that are likely to emerge as the byproduct of engaged community living.
Or, you may be here as a commuter who will have the opportunity to build a new home away from home through getting involved in the Gannon and Erie communities in ways that are different from those you've ever experienced.
To maximize the Orientation experience, students will be assigned to a small group led by one or two Transition Guides (TGs). Your TG will make the experience personal for you, helping you curate a customized schedule and teaching you from the wisdom of their own experiences as student leaders.
Your voice will be important in your small group; you have stories to share, questions that others also have and a personality that others want to get to know. Speak up, connect with your peers and begin to build the connections that may last for a lifetime.
You'll also be able to choose the sessions that interest you most, so you can begin to dream big about what your time at Gannon will be for you.
The schedule track for guests is designed to meet the Orientation needs of parents and other supportive adults in the lives of new students. There will be opportunities to hear from high-level administrators, staff and faculty, whose tireless work is grounded in intentional, holistic care for your student.
You also will be able to interact with alumni who are doing significant and successful work in their chosen fields. And, the IgKnight Your Passion and Special Interest Sessions allow you to choose to learn more about the topics that interest you most. Craft your own perfect schedule.
Lastly, students and guests don't want to miss the "Goodbye (for now!)" session at the end of Day 2. This brief wrap-up will be the bridge connecting your Orientation with Preview GU, the start to fall semester in August.
We'll see you at the opening session and
want to meet each of you during your time on campus.
Until then, enjoy this bonus edition of Gannon's award-winning collegiate newspaper, which includes stories about just a fraction of what Gannon offers.
Spoiler alert: What ultimately makes Gannon most special will be you — your journey of self-discovery, your engagement, your hard work and your involvement in our communities. That experience starts today.
JESSIE HUBERT BADACH '15M
ANGELA COUSTILLAC '13