Women's basketball splits last two games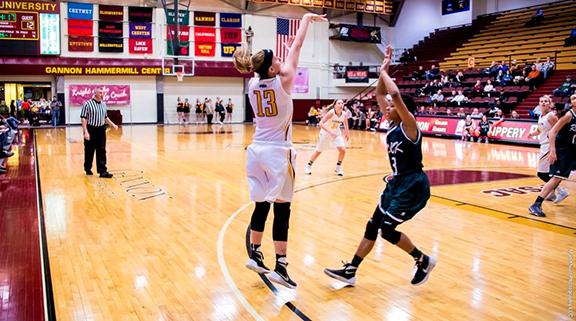 The Gannon University women's basketball team was hitting on all cylinders Saturday, and the result was a season-high point total and an 84-55 victory over host Slippery Rock.
The win, coupled with a 69-40 loss to Edinboro on Feb. 15, leaves the Knights with an overall record of 9-18 and a Pennsylvania State Athletic Conference mark of 9-12 going into their final game of the season Saturday against PSAC rival Mercyhurst.
Game time is at 1 p.m. in the Hammermill Center, where Gannon holds a 29-11 series advantage over their crosstown rivals.
Saturday's win over Slippery Rock represented the largest margin of victory of the season for Gannon, which has won four of its last six down the stretch.
The Knights shot 50 percent from the floor and 42 percent from three-point range, where they connected on 10 shots from behind the arc.
Maggie Mitchell led the way offensively with 30 points and five assists — the third time she has eclipsed the 30-point mark on the season.
Mitchell had help from several teammates, including Lanise Saunders, who scored 17 points to go with 12 rebounds, and Chelsea Rourke, who finished with 16 points, connecting on 6-of-8 shots from the floor.
Gannon shared the ball well as three players – Mitchell, Rourke and Julia Braungart – each finished with five assists.
The Knights opened the game on fire, outscoring the host Rock 24-5 in the opening quarter and leading 43-21 at halftime.
Slippery Rock cut into the lead slightly in the early stages of the third quarter before Gannon regained momentum and widened its lead to 63-35 heading into the final quarter.
The Knights didn't fare nearly as well against Edinboro, as the Fighting Scots turned a three-point first-quarter lead into a 34-19 lead at halftime.
Edinboro continued to turn it on in the third quarter, outscoring the Knights, 15-8, to put the game away.
Gannon had its problems on the offensive end, connecting on just 33 percent of its shots from the floor, including 19 percent from three-point range. The Knights also had 22 turnovers to just six for Edinboro.
Saunders led Gannon with 12 points and nine rebounds while Braungart contributed nine points. Mitchell was held to just five points — tied for her low point total of the season. Both of those five-point games came against Edinboro.