Baseball takes on the south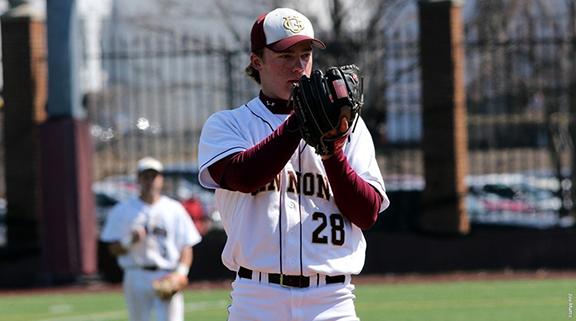 The Gannon University baseball team traveled to Gaffney, S.C., to open its season over the weekend and wound up splitting its first four games.
The Knights, ranked ninth in the National Collegiate Baseball Writers Association (NCBWA) Preseason Atlantic Region Top 10 and predicted to finish third in the PSAC Preseason Coaches poll, played a pair of nonconference doubleheaders Friday and Saturday.
On Friday, Gannon dropped its season-opener to Limestone College, 14-9, but came back to take the second game, 10-8. The next day, the Knights edged Long Island University Post, 5-4, in game one before falling, 9-2, in the nightcap.
In Friday's opener, Gannon chased Limestone's starting pitcher, Brady Graham, off the mound after just one-third of an inning as a result of five early runs scored.
After the first three Gannon batters reached base, two runs were scored by way of a fielding error by the shortstop. Cody Callaway then drove home a run with a double, and Nick Restuccia ended the scoring with a two-run single.
Limestone wasted no time in responding, scoring three times in the bottom of the first off Gannon starter Santiago Mendez, who went six innings and gave up five earned runs on six hits while striking out seven.
Gannon eventually added to its early scoring in the third inning after Kyle Cox doubled to lead off and he scored on a Callaway single, his second of RBI of the game.
After Limestone's Garrett Lowery launched a two-run homer in the bottom of the fifth, Gannon answered with three runs of its own.
Freshman Elijah Quiceno led off with a double and was brought home, two batters later, by Matt Oruch. Charles Benack then scored Oruch on a double, and would eventually score on back-to-back fielder's choices by Cox and Mike Colosi.
Gannon took a 9-5 lead into the bottom of the sixth. But Limestone erupted for nine runs during the bottom of the inning, during which time it sent 14 batters to the plate, to put the game away. Lowery put the nail in the coffin with a grand slam to put the score at 12-9.
Callaway and Restuccia each had two hits and two RBIs for Gannon and Cox also drove in two runs.
Cox also came up big in the nightcap, collecting three hits. Colosi had two hits and drove in three runs while Oruch and Nate Cardy each had two hits, as the top six hitters in the lineup combined to produce 11 of Gannon's 12 hits.
David Cricks picked up the win, allowing three earned runs on three hits in four innings.
The Knights started the second game similarly to the first by scoring three runs during their first at-bat. They loaded the bases by way of two singles by Benack and Oruch, a hit by pitch, and an RBI single by Cox.
Colosi picked up two of his three RBIs on a two-run single to end the first-inning scoring.
Limestone scored in the second before Gannon added three more in the third.
Cardy singled and later scored on an error, and Colosi and Gregory Nicolia each contributed run-scoring singles to send Gannon into the bottom of the third leading 6-1.
Limestone clawed its way back, cutting the deficit to 6-5, but Quiceno came home on a bases-loaded walk in the fourth to make it 7-5 Gannon.
Oruch produced an RBI single in the fifth and Callaway would score on a dropped fly ball with two outs in the sixth. Gannon completed its scoring for the day with two infield singles and back-to-back walks.
In Saturday's doubleheader opener against LIU Post, Gannon scored multiple runs in the first inning for the third straight game. That marked the first time the Knights had done that since at least the 1999 season.
Gannon scored three runs on five hits after the first four hitters reached with singles; Cox's single drove in one run, another scored on a double play and Restuccia ended the first-inning scoring with a two-out RBI single.
Gannon extended its lead to 4-0 in the fifth inning with an RBI single by Colosi, but LIU Post answered with four in the bottom of the inning to tie the game.
The game would remain tied until the final frame when Callaway scored Gannon's fifth run after Cox's eighth career triple. That moved Cox into a tie for fourth place all-time at Gannon since 2000 with Greg Radwan (2007-2010).
Starting pitcher Aaron Jackson recorded two quick outs in the bottom of the seventh before allowing a single up the middle. He would then induce a grounder back to the mound to finish his complete game with a 5-4 win.
Jackson allowed the four fourth-inning runs and surrendered seven hits while striking out a career-high 11 and walking one.
Restuccia and Cox each finished with two hits for Gannon.
In Saturday's nightcap, LIU Post took control early and never looked back. LIU Post scored twice in the first, three times in the third and twice in the fourth and that was all it would need as Gannon was held scoreless until the fifth.
Oruch accounted for four of Gannon's seven hits, including an RBI single. Austin O'Shei had two hits, including a triple, and he scored both of the Knights' runs.
Joey Colosi got the start on the mound and allowed two earned runs through three innings, striking out two and walking none. Freshman Brandon Weber tossed a scoreless seventh during his collegiate debut.
By the weekend's end, Cox and Oruch extended their hit streaks to eight and seven games, respectively.
Next up, the Knights head to Winter Haven, Fla, for their annual 10-game spring break trip. The trip begins Sunday with a 12:15 p.m. doubleheader against Wheeling Jesuit. Gannon has swept Wheeling Jesuit at the last two Russ-Matt Invitationals.
MATTHEW FASSNACHT
[email protected]