Knights fall twice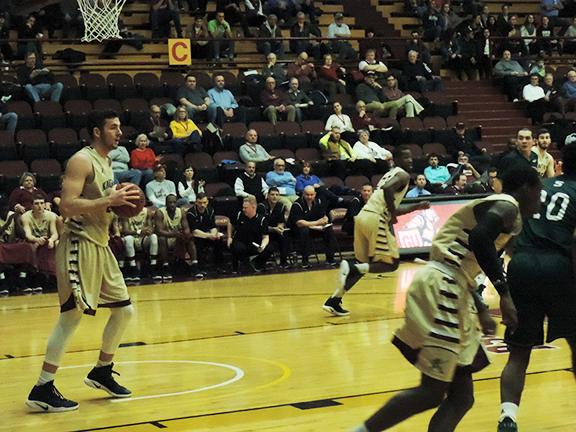 After losing to Edinboro and Slippery Rock by a combined margin of just five points last week, the Gannon University men's basketball team looks to pick up a win over rival Mercyhurst Saturday.
The two setbacks — 78-77 to Edinboro on Feb. 15 and 71-67 to Slippery Rock on Saturday — left Gannon with an overall record of 16-9 and a 14-7 mark in Pennsylvania State Athletic Conference play heading into Saturday's rivalry matchup at the Hammermill Center.
The 3 p.m. Porreco Pride of Erie Game also will serve as Senior Day for the Knights.
The loss to Edinboro featured a strong first-half effort by the Knights, but a slightly stronger second-half comeback by the visiting Fighting Scots, as they scored 52 points in the last 19 minutes to overcome a huge deficit.
Gannon, which owned a 16-point halftime lead, was led by Matthew Dogan, who scored 26 points in the loss. Also contributing big on the offensive end were Damon Miraud with 20 points, Evan Phoenix with 18 and Zay Jackson added 11.
Miraud also collected his fifth career double-double coupling 14 rebounds with his 20 points.
Gannon got off to a hot start, outscoring Edinboro 14-5 in the opening minutes, and eventually the Knights built their lead to 15 three times before widening it to 42-26 at halftime.
Gannon appeared to be in control in the second half, leading by 14 with a little less than 11 minutes to play and holding an 11-point lead at 68-57 with 7 minutes, 37 seconds remaining.
At one point, Phoenix brought the house down with a thunderous dunk, which extended Gannon's lead to 59-45 at the time.But Edinboro turned things around, using an 11-2 run to tie the score at 72-72 with 2:49 remaining.
Dogan's three-pointer and a pair of free throws gave Gannon a five-point lead, but the Knights would not score after that.
Jaymon Mason's jumper with 20 seconds remaining gave Edinboro a 78-77 lead. Gannon's Phoenix was fouled with one second remaining, but missed the front end of a one-and-one.
A few days later Gannon hit the road to take on Slippery Rock and came up four points short. Dogan scored 22 points, leading all scorers on both sides. That marked his 22nd consecutive game scoring in double digits.
In their typical fashion, the Knights opened the game scoring first and maintained the lead through the first half. At one stage, Gannon held an 11-point margin, but the host Rock pulled to within two as intermission approached, 35-33.
In the first half, the Knights had a good lead at 11 points but Slippery Rock caught up and as the half concluded Gannon was up by two at 35-33.
The Rock was quick to tie it up at the opening of the second half and the final 20 minutes remained close. Gannon led by five at 42-37 with just under 17 minutes to play but Slippery Rock responded with a 16-4 run that resulted in a 53-46 lead with 12:22 remaining.
Gannon battled back to tie it at 55-55 on Hans Burwitz' layup with 8:29 to play. Slippery Rock went up by five at 65-60 with 2:42 left, but Burwitz again came up big and his layup tied the score at 65-65 with 1:15 remaining.
However, the Rock snapped the tie with a couple of Merdic Green free throws with 50 seconds to play, and Gannon never got closer.
In addition to Dogan's 22 points, Jackson contributed 15 and Phoenix 12 for Gannon.
Saturday's home meeting with rival Mercyhurst will conclude the Knights' regular-season schedule.
Gannon will host a PSAC Tournament quarterfinal matchup at 7:30 p.m. Wednesday, March 1, in the Hammermill Center against an opponent to be determined after Monday's first-round games.
BRANDON JACES
[email protected]