Men's basketball beats UPJ, falls to Seton Hill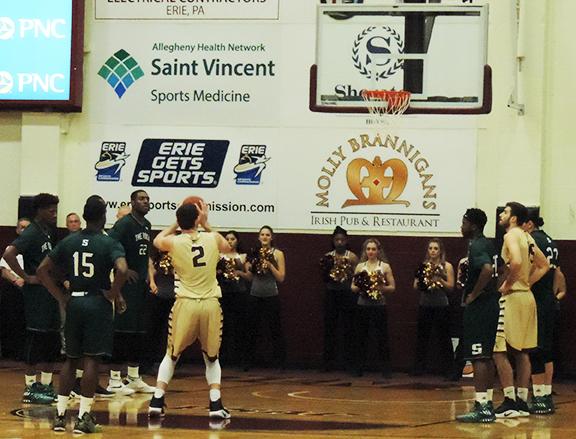 Coming off a loss to first-place Indiana University of Pennsylvania, the Gannon University men's basketball team rallied back with a 71-70 win over Pitt-Johnstown Wednesday, but then lost a 17-point halftime lead and fell to Seton Hill, 71-65, Saturday on the road.
The split left the Knights 12-5 in Pennsylvania State Athletic Conference action and 14-7 overall going into Wednesday's 7:30 p.m. matchup on the road at California (Pa.).
The key play in Gannon's win over Pitt-Johnstown was a multistep pass from freshman Jimmy Berger to junior Damon Miraud to sophomore Evan Phoenix, who put it up and in for the game-winning layup with nine seconds left.
Pitt-Johnstown held a 62-57 lead with 6 minutes, 15 seconds to play in the game after a 10-2 barrage that was punctuated by a dunk from UPJ's Josh Wise.
The Knights closed the gap to 65-60 and senior Matthew Dogan stepped in and hit a three from the right side and Phoenix tipped one in to tie the score at 65-65.
The last 45 seconds were packed with intensity as the lead changed four times. After Phoenix's game-winner, UPJ called a timeout. The Mountain Cats were able to inbound the ball cleanly but were forced to throw up a long three and missed, preserving Gannon's 71-70 win.
Pitt-Johnstown led by 10 at one point, 33-23, after a three-pointer and a pair of free throws with 2:24 left in the first half.
But the Knights responded with the last eight points of the half, putting them only down by two at 33-31 going into the half.
Gannon's Zay Jackson came out in the latter half and hit a jumper to tie the game at 33-33. However, UPJ responded with 11 consecutive points, getting its biggest lead at 44-33.
After a couple baskets on each side both teams moved the score to 46-37. Gannon went off and Berger sealed a 9-2 run by hitting a couple long-range shots. Coupled with a jumper by Joe Fustine, the Knights regained the lead at 53-52 with 9:44 left on the clock.
That set the stage for the frantic battle down the stretch.
Miraud led a balanced attack with 13 points while Phoenix and Fustine each finished with 12, Dogan added 11 and Jackson contributed 10.
Coach John Reilly admitted it was a good game between two evenly matched teams and that the win didn't come easy.
"It was a good, tough, hard-fought win and we've had a few close games this year and this was another one of them," Reilly said.
Following UPJ, the Knights traveled to Greensburg to take on Seton Hill. Gannon wasn't able to curb the Griffins' scoring in the second half as they overcame a 17-point halftime deficit to win.
Out of the pen Seton Hill took a 9-4 lead but riding on his three from the previous game Dogan hit three triples as Gannon scored 14 consecutive points. The Knights held the lead at 18-9 and widened the gap to 28-14 at 3:29.
Gannon seized the opportunity during a scoreless 7:25 where the Knights held the Griffins to 0-for-11 shooting and caused three turnovers.
Before halftime, Berger hit a three and sophomore Ian Gardner hit a two-pointer to send the Knights into the locker room with a 36-19 lead.
Gannon was slow to start in the second half and didn't score until Jackson hit a pair of free throws at the 3:01 mark and Dogan followed it with the Knights' first field goal of the half.
Seton Hill came out strong offensively during the second but the Knights were able to hit a 6-1 mini run.
Gannon held a 57-49 lead after Fustine hit a pair of free throws with 7:53 left. Seton Hill responded with an 11-2 attack to move in front. Dogan tied it with consecutive layups but Seton Hill's Nathan Davis hit back-to-back triples.
Seton Hill hit a layup to go up 66-58 and the game never got closer than three points from then on.
Dogan led Gannon with 19 points while Jackson had 13, Berger 11 and Miraud 10.
Reilly said the game was a tale of two halves and the Knights' energy was down in the second, which was a polar opposite from the first half.
"We weren't there in the second and the two brothers [Nathan and Noah Davis] got it going," Reilly said
"The big guy [Spencer Casson] also had 10 blocks, which got to the guys."
Following Wednesday's road matchup at California, the Knights will continue their road play with a 7:30 p.m. meeting at Clarion on Saturday.
Gannon will return home to host Edinboro at 7:30 p.m. Wednesday, Feb. 15, at the Hammermill Center.
BRANDON JACES
[email protected]