Competive cheer teams place first in Niagara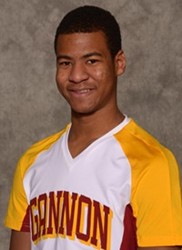 The Gannon University competitive cheer team kicked off its 2017 season, cheering its way to two first-place finishes over the weekend.
Both the women's and coed teams fought hard in order to capture trophies at the JDRF Cheer for a Cure in Niagara Falls, N.Y.
Gannon has been able to walk away with first-place titles in each appearance at the JDRF Cheer for the Cure for the past three seasons. This time around, both teams were able to dance, stunt and tumble right past Brockport State, which took home second place.
There was no better way to start the season than having a clean sweep in the college division.
The Knights' coed team beat out the entire competition by earning a score of 79.8 out of a possible 90 points. Jumps, standing tumbling, tosses and overall effect scores helped Gannon clinch that high score.
With a possible 10 points at hand, the coed squad scored a 9.55 for jumps, 9.25 in standing tumbling, a 9.1 in tosses and a 9.6 for the overall effect. The Knights earned 24.9 out of 30 points for a building score and 27.8 out of 30 points for a tumbling score.
Their highest total was in overall performance, where the squad received 29.1 out of 30 points.
Freshman Patrick Franklin said he was happy with the team's effort.
"I think as a whole we went out there and put our best foot forward and slayed," he said.
The women's team also put out a stellar performance and walked away with a first-place finish. The Knights had a total score of 71.25 of 90 points, leaving spectators on their feet.
The Knights women's team had the same three categories consisting of jumps, tosses and overall effect, all with a possible 10 points to earn.
The squad pushed through to earn an 8.55 in jumps, 8.1 in tosses and a 9.3 in overall effect. The last three events all came out of a possible 30 points. These events included overall performance, tumbling skill and building skills.
Gannon earned an outstanding score of 28.9 for overall performance, 22.85 in tumbling skills and 19.5 in building skills.
With the first competition of the season behind them, the Knights will look to continue their winning streak. They will be back in action Sunday at the Champion Cheer Central Red Hot Competition in Clarion.
CIARA RAND
[email protected]