Women's basketball loses close game to IUP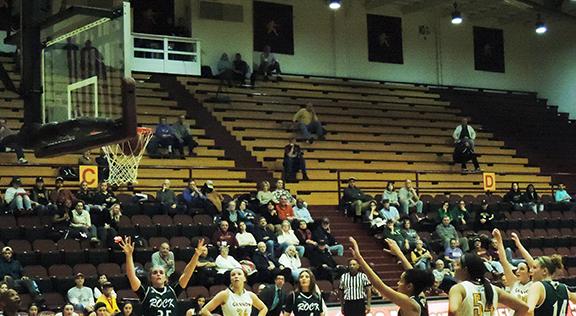 The Gannon University women's basketball team's bid to win back-to-back starts for just the second time this season came up short Saturday, as the Knights dropped a tough 62-57 decision to Indiana University of Pennsylvania at the Hammermill Center.
Gannon was trying to build off its thrilling 64-63 win over Slippery Rock on Jan. 25, a win that had snapped a four-game losing streak.
The loss to IUP left the Knights with a 5-16 overall record and a 5-10 mark in Pennsylvania State Athletic Conference play going into Wednesday's 5:30 p.m. meeting with visiting University of Pittsburgh-Johnstown at the Hammermill Center.
Gannon looked poised to make it two straight in Saturday's meeting with high-flying IUP, which came into the game 13-5 overall and 11-3 in PSAC play.
The Knights led by as many as 16 points in the first half, but the Crimson Hawks closed the second quarter on a 13-0 run, slicing Gannon's halftime lead to 28-25.
IUP took its first lead early in the third quarter and the two teams battled evenly through the rest of the quarter.
Gannon led 45-44 with 7 minutes, 45 seconds to play in the fourth quarter, but Indiana went up for keeps at 50-48 with 5:19 to play.
Gannon pulled to within one on Julia Braungart's three-pointer with less than two minutes to play, but IUP converted eight free throws down the stretch to hold on for the win.
Maggie Mitchell led Gannon with 15 points while Lanise Saunders added 11 points and eight rebounds for the Knights, who owned a 35-27 edge on the boards. However, the Knights committed 22 turnovers to just eight for IUP.
Kelsey Herbert and Braungart each contributed eight points for Gannon, with Herbert adding six rebounds – all coming in just 14 minutes.
Mitchell keyed the Knights' exciting one-point win over Slippery Rock on Jan. 25, as she drained two free throws with 4.8 seconds left in the fourth quarter to cap a successful comeback.
Slippery Rock led by four, 63-59, with just 40 seconds to play, but the Knights would not go away.
Mitchell's free throw cut the lead to 63-60 with 28 seconds left, and Gannon's pressure defense forced Slippery Rock's Lexi Carpenter to try to call a timeout with 21 seconds to play. But The Rock had no timeouts remaining, which resulted in a technical foul.
Mitchell hit two technical free throws to make it 63-62 and Gannon retained possession. Mitchell was then fouled with four seconds remaining and hit both free throws to give Gannon the win.
Chelsea Rourke, named the ECAC's rookie of the week the week before, led Gannon with 17 points and added five rebounds and three assists. Mitchell contributed 13 points, 10 assists and six rebounds while Herbert added a career-best 13 points in 15 minutes.
Following Wednesday's home date with Pitt-Johnstown, the Knights will hit the road for three straight games, starting with a 1 p.m. matchup at Seton Hill Saturday. Gannon also will play at California University of Pennsylvania Wednesday, Feb. 8, and travel to meet Clarion Saturday, Feb. 11.