Men's basketball on hot streak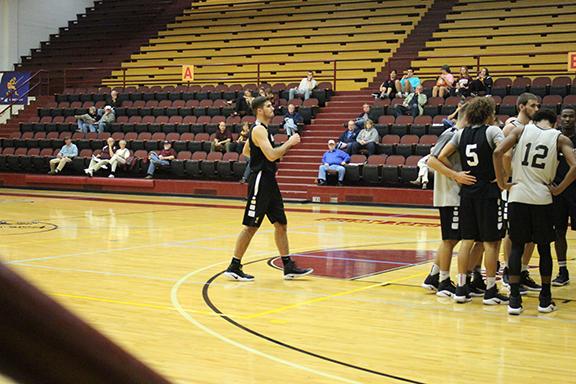 The Gannon University men's basketball team has been working overtime in recent weeks, and it's been paying off in a big way.
The Knights outlasted Clarion Saturday, 110-104, in double overtime at the Hammermill Center to extend their winning streak to five games and improve their overall record to 10-5 and 8-3 in PSAC play.
Saturday's win marked the fourth time in five games that Gannon went to overtime and came away with a victory, which also happened to be their 18th straight win over Clarion at the Hammermill Center.
Gannon currently sits in second place in the PSAC West division, two games in back of Indiana University of Pennsylvania going into Wednesday's 7:30 matchup with rival Mercyhurst at the Mercyhurst Athletic
Center.
Gannon senior Matthew Dogan attributes the Knights' impressive record to the fact that the team can keep its emotions in check.
"We never get too up or too down," he said.
"We have done a good job of keeping our composure throughout a lot of close games."
Dogan was a key piece to the puzzle as he joins the list of five other Knights to have scored 30 points in consecutive games. The latest accomplishment came in a 105-97 overtime win against Pitt-Johnstown on Jan. 9 and the other against Seton Hill on Jan. 6.
Dogan hit a 30-foot buzzer-beating shot to force Pitt-Johnstown into overtime and the Knights outscored the Mountain Cats 18-10 in the extra period to claim the win.
It was the sixth-highest scoring game in Gannon's 73-year history.
Dogan is Gannon's top scorer so far on the season, averaging 17.8 points per game, but Zay Jackson is a close second at 17.3 and Evan Phoenix also is contributing 15.4 points per game.
Prior to the OT win against UPJ, the Knights beat Seton Hill in double OT 83-73 and California University of Pennsylvania in single OT, 93-88
After the UPJ win the Knights followed it up with another win two days later against Edinboro, 80-69. Junior Damon Miraud stood out as he collected 22 rebounds — the most since Dec. 19, 1976.
Miraud is averaging nine points and nearly 10 rebounds a game for Gannon, which is outrebounding its opponents by an average of more than nine per game.
Coach John Reilly also earned his 200th win as Gannon coach that night, but said he isn't as concerned about his personal accolades as he is with the team's success.The Knights also found themselves in the win column earlier in December when they faced Bowie State University in a nonconference matchup.
The game resulted in an 81-67 victory over the Bulldogs. Miraud reached a career-high 19 points coupled with nine rebounds.
Despite having multiple wins, the Knights did have to overcome a bump in the road to get to where they were at. Gannon finished out December with three losses, which came at the hands of East Stroudsburg (88-81), Wheeling Jesuit (65-63) and Indiana University of Pennsylvania (64-57).
In the loss to East Stroudsburg, Jackson was a career-high 6-for-8 from the three-point arc against the Warriors. Jackson followed it up two games later by going 4-for-5 from long distance against IUP.
Against Wheeling Jesuit, Dogan had his third career double-double against the No. 13 ranked team.
Reilly explained the losses were against good teams that are nationally ranked.
"They were tough games but we were right there," Reilly said.
Reilly said the Knights didn't change anything after the losses; they just stuck to their usual game plan and it worked in their favor.
"It's a process, we have new guys but we're grinding away and we are becoming more cohesive," Reilly said.
Up next the Knights will travel to take on Mercyhurst at 7:30 p.m. Wednesday in the Porreco Pride of Erie game.
BRANDON JACES
[email protected]