By OLIVIA BURGER
a&l editor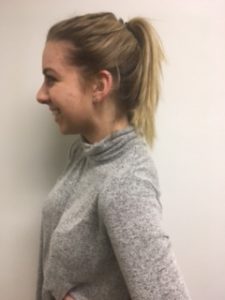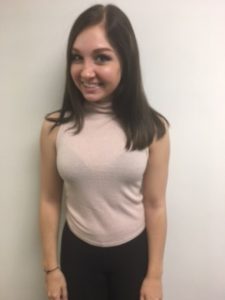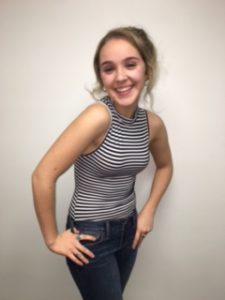 Like almost all aspects of today's culture, fashion follows the rule of "everything old is new again."
Believe it or not, turtlenecks are an article of clothing that are making a comeback this fall season.
Yes, the horrible cloth constraints that your mom forced you to wear around your neck every year for family Christmas photos are being sold and worn again, but not in the way you remember.
While the traditional suffocating turtleneck style may still be popular among some bingo players and sweater-knitters, that's not the style that is popping up in hip stores now.
The new version of the turtleneck takes the neckline and coziness of the original style and converts it into a look more suited for a younger generation.
A lighter and looser neckline, as modeled by Nicole Borro (above left), is a great way to keep the turtleneck look without feeling claustrophobic all day.
Borro, a freshman English major, said she likes how loose turtlenecks are a good look for cold weather. "They are a great substitute for a scarf," she said.
Another popular turtleneck trend is the sleeveless turtleneck as shown above by model Maddie Rupnik (middle).
By taking away the sleeves, the actual neckline of the top appears a lot less busy and is a more comfortable and breathable look.
"Whenever my parents made me wear a turtleneck, I threw a fit," said Rupnik, a freshman physician assistant major. "It was not a good time."
Rupnik said that she now likes the style she once hated. "It adds a little pizzazz and class to a look," she said.
One of the more modern ways that turtlenecks are being channeled is with a "faux" turtleneck look.
Many shirts and bodysuits incorporate raised collar necklines that mimic the appearance of a true turtleneck, just shorter in length, as displayed above by Bailey Lawrence.
Lawrence, a freshman physician assistant major, said that she likes this new style of the turtleneck, but she'd like to keep the old looks in the past.
"I'd only wear a real turtleneck as a joke," she said. "The new ones make me feel like a hip mom but I like them."
Whether you love them or hate them, turtlenecks are going to be showing up more often as the weather gets colder and the trend gets hotter.
Perhaps you'll accept the movement and purchase one the next time you're out shopping or, maybe despite your resistance, one will end up in your stocking this Christmas season.
Give it a shot and if doesn't work out, hey, that's the beauty of the gift receipt.
Similar looks that are available for purchase are shown below with website links included.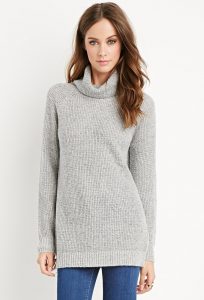 Story continues below advertisement
Marled Knit Turtleneck Sweater
$24.90 at Forever21.com :
http://www.forever21.com/Product/Product.aspx?br=F21&category=sweater&productid=2000234362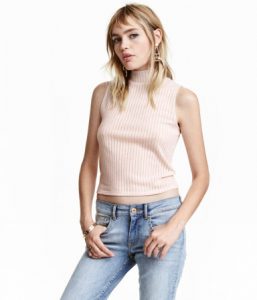 Mock Turtleneck Top
$7.99 at HM.com:
http://www.hm.com/us/product/50016?article=50016-A&cm_vc=SEARCH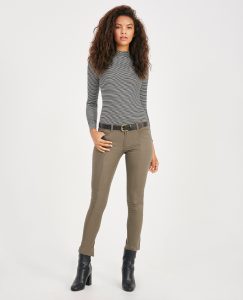 Striped Ribbed Knit Keyhole Bodysuit
$19.95 at WetSeal.com:
http://www.wetseal.com/striped-ribbed-knit-keyhole-bodysuit-52887482.html?dwvar_52887482_color=3#start=12
OLIVIA BURGER
[email protected]