'Sixth Sigma' to perform as part of Fringe Fest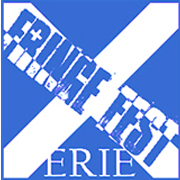 All throughout the month of February, Gannon University's Schuster Theater, as well as other local area theaters, have been showcasing their creative talent with short and unconventional performances.
Next up on the list of plays is Gannon's production of "Sixth Sigma."
Writer and director Michael Haas said he hopes to bridge the gap between neo-absurdist thought and improvisational devised theater with his new creation.
Erie's Fringe Festival includes performances from theaters all around Erie including All An Act Theater, Dramashop, PACA, The Erie Playhouse and Gannon's Schuster Theatre.
All proceeds gathered from festival performances help benefit the Schuster Theatre's trip to Edinburgh, Scotland, for the International Collegiate Theatre Festival coming in August of 2017.
Haas is no stranger to the theater.
Along with being the face you often see on stage, Haas has written more than nine plays for the theatre, three of which were represented when the Schuster Theatre performed at the Kennedy Center American College Theatre Festival earlier this past semester.
He does, however, hope that his newest creation will stand out.
"Sixth Sigma" features two main characters, just talking.
What they discuss, you will have to see to find out, but the director promises some witty banter within this seemingly meaningless dialogue.
Inspiration for his newest piece came from Samuel Beckett's play, "Waiting for Godot."
This absurdist play, written in the early 1950s, focuses on two characters having a conversation while waiting for a man named Godot.
Haas stated he liked the breakdown of the traditional version of theater.
"There is no fourth wall," Hass said.
"There are no walls. This is a deconstruction of theater that will challenge viewers in every way."
Acting visiting professor Alaina Manchester described absurdism as having two specific elements.
"Number one, nothing matters; and number two, because of that, everything matters." she said.
Most absurdist fictional pieces contain characters who have no idea what their true purpose for life is.
Audiences can expect to study human behavior while the characters partake and examine humorous actions and useless events as they bring to question what their life means.
Haas said that though he might be biased to how great his show is, he assures there will be something for everyone.
"It'll challenge them," He said. "It'll either make them upset or happy, but they will have a reaction."
"Sixth Sigma" performances are at 8 p.m. Monday and Tuesday in the Third Floor Lounge of the Palumbo Academic Center. It is $5 for admission.
LAUREN SOVISKY
[email protected]