Fringe Fest presents 'An Apartment with Grayson'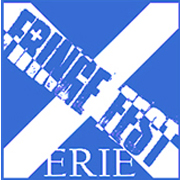 Fringe Fest Erie 2016 showcased its second Gannon University performance earlier this week with "An Apartment with Grayson."
Student written and directed, "Apartment with Grayson" showcased first-time writer Michael Fujito's creation of the dark side of friendship.
As part of the Fringe Fest tradition, this short play had an edgy kick, small cast and was performed off stage in one of Gannon's very own classrooms.
Growing strong for six years now, Erie's Fringe Fest includes performances from theaters all around Erie including All An Act Theater, Dramashop, PACA, The Erie Playhouse and Gannon's Schuster Theatre.
All proceeds gathered from festival performances help benefit the Schuster Theatre's trip to Edinburgh, Scotland for the International Collegiate Theatre Festival being held in August 2017.
The first week of February jump-started the festival with Gannon's first performance: "Dog Logs." Continuing the fun, this week's play, "Apartment with Grayson," gave this writer the chills she thought she'd lost after hearing spring was coming early.
In the play, our main character Arthur is all grown up but in need of a roommate.
His best friend from high school, Grayson, offers to help him out, but there is a reason some friendships don't last after high school.
Grayson lives by the saying "treat people the way you want to be treated" and although the saying might entail respect or kindness to us, to Grayson, it means he can treat everyone as rudely as he wants. Arthur has managed to put up with everything terrible Grayson has brought upon them, and even though Arthur wants to move out, Grayson's temper grows and begins to scare him.
Grayson's personality has only become more insensitive and psychotic since he was a child, but after the harassment of Arthur's relatives and neighbors, as well as Grayson's continuing threats of murder and more, Arthur must choose whether he saves himself or his roommate.
Though the play only lasted about 30 minutes, that short time consisted of tons of laughter from the dark humor of this psychotic roommate.
Mixed with giggles were gasps of astonishment and moments where the audience couldn't believe what Grayson was saying, and didn't want to think about what he was going to do.
With a cast of three, these actors did a splendid job of acting out the loud, upsetting and ridiculous fights roommates tend to have.
Grayson, played by Kara Headly, captured the sarcastic and insanely aggressive side of a roommate you only hope you never see.
The production was held in Gannon Zurn Science Center.
Being offstage and in a classroom gave this play a more personal feel. Instead of sitting in a dark room, waiting for the lights to shine on a stage of actors, it felt like you were sitting with the characters and watching their crazy lives unfold before your eyes.
For a first-time piece, the writer did well by this critic.
LAUREN SOVISKY
[email protected]