Pink Zone game draws big crowd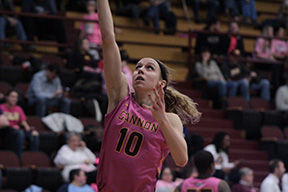 The Gannon University women's basketball team defeated Mercyhurst, 65-62, on the road Wednesday in the first of two meetings for the crosstown rivals then fell to Slippery Rock, 72-65 in overtime in the annual Pink Zone game on Saturday.
The Knights were led by senior Morgan Neighbors with 26 points on 9-of-12 shooting, as well as sophomore McKenna Shives, who added 16 points against rival Mercyhurst.
Senior double-double machine Jenny Thies, came up just short on both ends, adding nine points and nine rebounds.
Gannon used a strong fourth quarter to secure the win, outscoring Mercyhurst 27-20 in the last period.
The Knights also used strong free throw shooting as a weapon, making 21-of-26 free throws while the Lakers only attempted 11.
Gannon coach Jim Brunelli said he thinks the PSAC West side is the strongest it's been in years, and Mercyhurst is a good example of that balance.
"They're really good, and that's one of those games where you throw out the records," Brunelli said.
"We were able to grind one out, and that was huge after coming off two losses."
Gannon used stout defense to limit Mercyhurst's leading scorer, Angela Heintz, to 6-of-26 shooting.
The Knights rebounded the ball well, capitalizing on 13 offensive rebounds with 16 second
chance points.
Coming off of a rivalry win, the women were energized as they headed into their annual Pink Zone game, but they were matched and lost to Slippery Rock, before a crowd of 804 fans at the Hammermill Center, who all realized that the game meant more than just what was on the scoreboard.
The Knights took a 62-58 lead in overtime, but were unable to hold on as the Rock went on a 10-3 run to close the game, spurred by a four-point play by Rock guard Lexi Carpenter.
Thies led the way for Gannon with 21 points and 15 rebounds, her ninth double-double of the season. Shives added 17 points, including five 3- pointers.
Despite the loss, the day ended up being much bigger than basketball. In honor of the annual Pink Zone game at Gannon, admission to the Hammermill Center was free, and the Knights wore special pink jerseys.
Brunelli acknowledged the effect the Pink Zone game has had on his team and on the city.
"Breast cancer and cancer in general has touched pretty much everyone on our team," he said. "Ten or 15 years ago, I'm not sure you could say that.
"I know it was one of the biggest crowds I've seen since I've been here, and win, lose or draw it's good to support a cause."
Shives acknowledged how important a game it was for their team.
"It helps put things in perspective for us, especially when the cancer survivors and those fighting walked out with their signs," Shives said.
"It's amazing to be a part of something bigger than ourselves."
Gannon next tips off at home Wednesday against rival Edinboro at 5:30 p.m. at the Hammermill Center.
MAX SENG
[email protected]