Women's basketball starts 2-0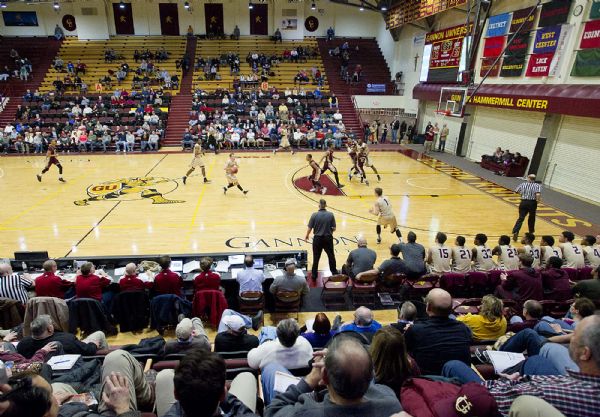 The Gannon University women's basketball team defeated Central State and Lincoln University in the Carol Eckman Memorial Tournament over the weekend in West Chester, Pa.
The Knights headed into the game against the Marauders of Central State for their first game of the season, and were led to a 76-57 win by junior Brianna Brennan and senior Jennie Thies with 14 points apiece. Thies also added 10 rebounds.
The next day, Gannon faced the Lions of Lincoln University, and defeated them soundly, 74-62.
The Knights were again led by Thies, who scored 22 points and grabbed 10 rebounds, securing her spot for the PSAC Western Division player of the week.
Senior Morgan Neighbors added 17 points and five rebounds, while sophomore McKenna Shives chipped in 13 points.
In addition to securing PSAC West player of the week honors, Gannon also clinched the conference's freshman of the week with the award going to Elissa Ellerbrock, a 5-foot 9-inch guard from Ottawa, Ohio.
Ellerbrock showed an assortment of skills in her first two collegiate games as she averaged 6.5 points and 3.5 rebounds while also adding two steals in each game.
Coach Jim Brunelli already sees in this team an aptitude for listening and making adjustments.
"In the first half against Lincoln we weren't attacking the basket enough, and we kind of told them, 'Hey, let's get to the basket,'" Brunelli said. "And in the second half, we went 17-for-20 from the line, so being able to make adjustments over the weekend was fantastic."
Brunelli also said that his team arguably lost as much as anyone in the country, with four starters and three 1,000-point scorers having graduated.
"You can't possibly replace that kind of void with one recruiting class or player," Brunelli said.
"But we've been able to change our offense a bit this year and have been able to get Jennie (Thies) the ball in a lot of different spots, and so far, so good."
Brunelli also thinks the changes in women's college basketball are positive ones, including the move to quarters from halves and the advancement of the ball to half-court with under a minute to play in a quarter if a timeout is called.
However the biggest rule change Brunelli thinks the Knights will take advantage of is the number of fouls – five — it takes to get in to the bonus to shoot free throws in a quarter.
"It's certainly an advantage if you're a team that takes and makes a lot of free throws," he said. "Thies was 10-for-10 from the line herself against Central State.
"But at the same time if you miss a lot of them, those are empty possessions, so I really like that change."
Gannon tips off at Clarion at 5:30 p.m. Wednesday before opening the Hammermill Center at 1 p.m. Saturday against the Marauders of Millersville.
MAX SENG
[email protected]