Finding Empowerment through Acrobatics and Tumbling
Erie, Pa, April 4, 2023 — Acrobatics and tumbling, the sport created by women, for women has become one of the fastest- growing collegiate sports for female athletes to date. Gannon University's program is celebrating their 10th anniversary this season, following a successful 2nd place finish at the NCATA national championships last season.
This season for the Gannon acrobatics and tumbling team has shown plenty of perseverance through many changes. The knights gained a new head coach, Brandy Duren (previously the assistant coach) 3 months before the season started. This didn't slow Duren down, however, the hunt for redemption and a first-place national championship title became even more valuable. "We can be the first dii (division 2) school to win the national championship and that kind of embodies our goals for this season." In preparation for the second home meet of the season, and after some tough upset losses on the road, Duren was looking to inspire and remind the team of the who, what, and why the team does what they do. "With being a female student-athlete, it impacts us long after college. Because it does give us the drive to be a contributing ember in the future, and there's a lot of ways being a student-athlete helps long after the time on the mat."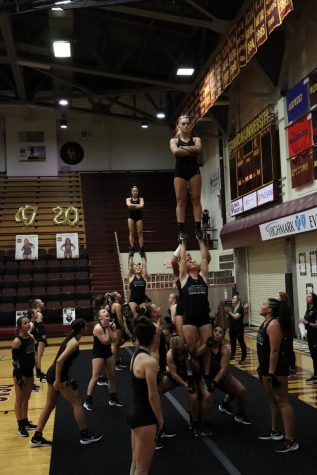 Gannon's acro team flourished on the mat against Adrian University, scoring a season high of 275.095. "We reflected on our weaker areas and fought to prove ourselves at the meet today." Said junior Courtney Solensky. "Acro makes me a stronger woman every day. It fuels me to inspire others around me by utilizing what it's taught me thus far." Solensky competed for Gannon at the national championship last season and regards it as one of her most memorable moments as an athlete in her life. "For sure last year when we qualified for the national championship final for the first time as a team and university. We qualified against Baylor and although sadly we lost, it only lit the fire to come back ready to compete the next year." Solensky was a critical member in improving the team event score to 95. 17 versus Adrian, a season high as well.
The season '23 team boasts its deepest roster yet for Gannon, with a total of 48 student-athletes. This first-year class is rich with talent with four of them hitting the mat in their first year. First-year Tori Soper came to Gannon with a previous background in competitive gymnastics, and now assists the team with her tumbling in individual rounds and team events as well. "This team has been one of if not the greatest opportunities of my life so far. I'm beyond thankful I have the ability to continue my career at the college level while simultaneously learning something new and working towards my future within my degree" (Soper). Within this season, two first-year's are honorable mentions for freshman of the week by the NCATA athletic honors. Peyton Oliver mentioned within week one for her tumbling contributions and provided events with scores of a 9.5 or higher in all her heats. Layna Bergeron picked up honorable mention for freshman of the week (week three) after contributions to a perfect ten in one of her toss events and one in her pyramid rounds as well.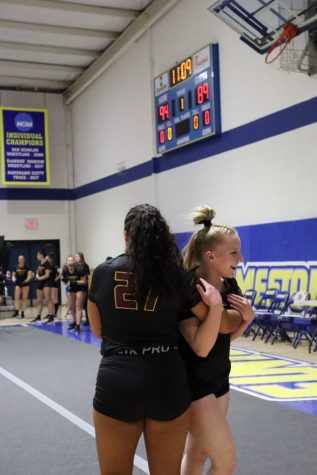 The team also welcomes back four super-senior athletes. Sammy Gouge has taken her fifth year to capitalize her strengths in the pyramid rounds, mid-leveling in all three heats and securing a perfect ten in the duo synchronized heat. After the close run for a national championship title last season, the "super seniors" are prepared to put in the work and avenge the loss at the national championships in West Liberty, West Virginia this upcoming April.
Success followed after the meet concluded, sophomore Ty Upton snatched NCATA week seven specialist of the week honors for her incredible efforts and score upgrades in two toss events including a 9.75 in the duo synchronized toss event. Upton revels in this award due to this being her first season on the mat after recovering from a torn ACL which included multiple surgeries to repair. "Blessed is an understatement. Serious tears of joy for the love and support my team gives me day in and day out" (Upton).
Gannon's acro and tumbling team truly embodies the importance and value of women's empowerment. The team refers to themselves as a "sisterhood" and prides themselves in the team culture created around it.
The knights have two more meets remaining in regular season, up next on the road against East Stroudsburg University. Following, the team hosts one last time at the Highmark against Presbyterian College on April 7th.