Gannon Knight Dance Competition on the Rise
Erie, Pa, January 26, 2023 — The Gannon University Dance Team prepares for their upcoming competitive dance season, and sophomore accounting major Abby Spohrer shares what the importance of dance is to her.
Spohrer has been dancing since she was three years old, and states that the atmosphere is one of many things that has made her enjoy being a part of the dance team.
As classes become more intense, she looks to dance as an escape from the workload for a little while and a chance to hang out with friends.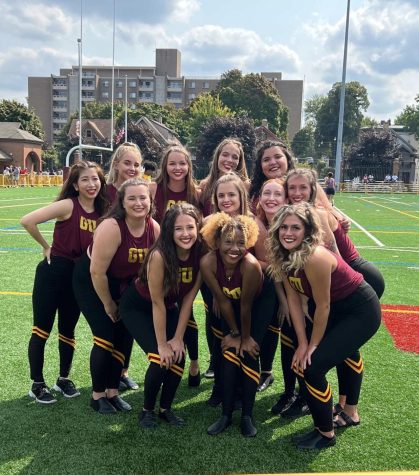 Along with the struggles of not being close to home it can sometimes be unsettling, yet her dance team has become a family to her making it, so she is never truly away from home. While her bond with the team was something she highlighted, she also focused on creating leadership skills.
Members of the team have many opportunities to help with creating choreography and overall managing the team. The team's collaboration, creativity, and positivity create strong performances.
The Knights perform at football games during halftime, where they perform a new routine every home game! They also perform at basketball games, as well as competing with other college dance teams.
As they prepare for the competitive season, they develop choreography, practice, and perfect routines. After each competition, the team listen to and watch critiques. They use this as a way to help further their dance experience. They look to these things as ways to improve as dancers, making them better and more adaptable.
The Gannon Dance Team will kick off their competitive season starting February 11th, at Penn State Behrend for the annual Spirt Against Cancer Competition. Where they will be dancing for a cause, if you can make sure stop by and support both the team and awareness.