Peers reflect on the legacy of a friend
Ali Smith , Arts and Leisure Editor
January 28, 2023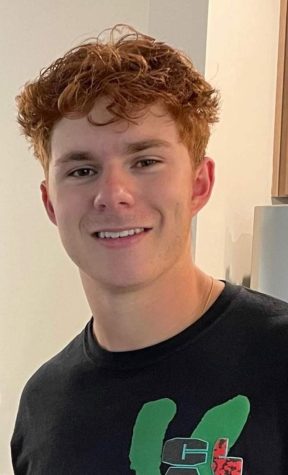 Erie, Pa, January 27, 2023— In life, Joseph Amann Jr. brought light and love to all who knew him at Gannon and beyond.
Amann's closest friends reflected on the joy he brought to the world while he was still here, and reminisced on the memories of him that they will carry with them for a lifetime.
Amann passed away unexpectedly January 4, 2023, and his friends attested to the hole his absence leaves.
Amann graduated from Saint James school in 2017, and became a Cathedral Prep alumni in 2021. He was attending Gannon pursuing a degree in accounting.
Amann was also a member of the Saint James Roman Catholic Church.
An athlete since grade school, Amann played a variety of sports including soccer, basketball, cross country and baseball, which is where he built many of his closest friendships.
Kody Klein, a sophomore biology major at Penn State Behrend who also attended Cathedral Prep, said that playing baseball and running cross country with Amann is what solidified their friendship.
"In college, we didn't talk everyday going to different schools, but we were the kind of friends where we always picked up where we left off" Klein said.
"When I broke a track record last year at Behrend, he reached out to me and told me how proud he was of me. Just to know he cared so much about my passions stuck with me then and still sticks with me now."
"There is not going to be a single run where I don't have him in my mind."
Additionally, Amann enjoyed golfing, skiing, water skiing, hunting and fishing with friends and family.
Recollecting his favorite memories with Amann, Joseph Bucci, a junior finance major and also a Cathedral prep grad, attested to Amann's love for outdoor sports.
"Joey and I loved to go hunting. We would leave directly from school, grab our things and walk into the woods to sit at the foot of a tree for hours at a time. Even in silence, we both knew there was nowhere else we'd rather be" Bucci said.
Bucci also spoke to Amann's love for golf.
"In the summer, he would wake up at 5 AM to go work at Whispering Woods golf course. After work, he would invite us out to play a round with him where we would share laughs, jokes and those are some of the best memories I have with him. He would do this every day of the week."
"Whatever Joey was doing, whether it was hunting, golfing, skiing or hanging out with the guys, he would always brighten up the room."
He was a devout Philadelphia Phillies fan and loved the Dallas Cowboys, which was a point of rivalry between him and his friends during the NFL season.
Cathedral Prep grad Isaiah Barron, who was also a sophomore at Gannon studying radiological sciences, told of this bond created over their contesting professional football teams.
"My best memories with Joey were talks about football," Barron said.
"Neither of us played in high school, but we loved watching the NFL. Joey liked the Dallas Cowboys, or cowgirls, as I called them. I liked the Philadelphia Eagles, the Cowboys rival team. Anytime the two teams played each other we knew that once we saw each other we had to talk about it."
"It was always a funny conversation, especially when Dallas lost. He'd just make that face that says 'yeah we got beat' and smile right after."
"We both loved poking each other any time our teams lost, and those are the conversations I will miss forever because although I'm an Eagles fan, Dallas has a special place in my heart, and I like the team a little more every time I see those navy blue and silver colors."
Aside from a love for sports, Amann is remembered by his friends for his sense of humor and the light he brought to every life he touched.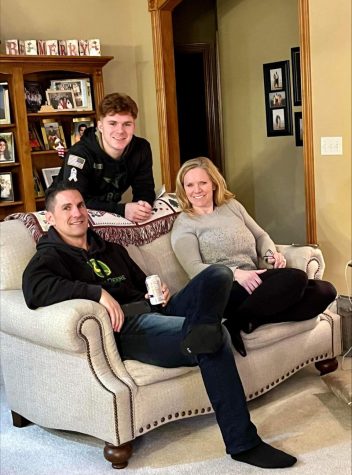 Allyson Bithell, sophomore physician's assistant major, said that Amann became a really important part of her life when they started attending Gannon together.
"A big part of Joey was his humor" Bithell said. "He was always making everyone laugh, whether it was on purpose or with him just being his silly self."
"Joey was such a great friend to me and many others. He had such a big heart and cared for so many people, leaving so many people to remember him for the amazing person he was. He had the kindest soul and I feel blessed to have known someone like him."
Another friend from high school who also attended Gannon, Eve Wareham, sophomore psychology major, recalled a memory that touched her heart and spoke to Amann's generous character.
"I had the privilege of going to homecoming with Joey in high school and we both were so excited. He asked me to go with him at my volleyball game while I had a concussion. I couldn't even play, but he sat and waited until the game was over so he could still make it special" Wareham said.
"He was such a caring and special person to everyone he ever encountered. He is already so missed by everyone and his remarkable impact is permanently on so many lives."
Natalie Boyd, a sophomore occupational therapy major, shared that Amann's kind heart was something so rare of this world.
"Joey was the most outgoing, loving and smiley boy I ever knew. He quite literally made everyone's day better by his presence alone" Boyd said.
"One night I recall hanging out with some friends and as the night ended, I was going to walk home. Joey stopped what he was doing, asked if he could walk me home and insisted that I shouldn't walk alone. I felt so good to know that I was cared about."
"This is just one example of the many ways that Joey's kind heart and caring personality truly made a difference. He was the boy that would give you the shirt off of his back and he consistently put others before himself."
Speaking to his more silly side, Klein recalled an inside joke which will be a part of his personality forever because of his bond with Amann.
"He was a big teaser. That's something I loved about him. Even if I was in a bad mood, he'd find a way to poke at you and get a laugh out of you" Klein said.
"We would always do the Heath Ledger 'Joker' impression together and talk to each other in that voice, and I still do that now."
Klein shared that on most weekends in college, he and Amann would go to iHop together on Sundays and recap the crazy events of the weekend, and this is something he will miss about his weekly ritual with Amann.
"We got to a point where we got so close that we spent so many of our weekends together at meets, games, and parties" Klein said.
"We got so close from sports and grew a bond from Joey being such a huge support for me and my passion for running with something he understood."
As a Gannon student, Boyd attested to how the campus environment has changed with Amann's impact in life and in death.
"I truly believe that because of his impact, the world is a better place" Boyd said.
"The dynamic of all relationships here has changed. We all have been checking in on each other and being kinder and more supportive of our peers."
Even in light of his tragic passing, Boyd found a glimmer of hope in the legacy Amann left behind.
"I think that is a testament to the kind of kid Joey was: we all want to be a better person for him and because of him."
Bucci beautifully summed up the memory of Amann in his testament.
"He built bonds with many of us and made us feel like we were family. I will always remember Joey for being a friend, a brother [to Michael], a son to Molly and Joe, and a person who was there for me for many years. The hole in my heart and the hearts of many will never be filled, but your memory keeps us moving."
"Watch over and protect us while you're up there. Miss you, Joey. Rest in Peace."
"No eye has seen, no ear has heard, no mind has conceived what God has prepared for those who love him." – 1 Corinthians 2:9