Ahrens joins cross country coaching staff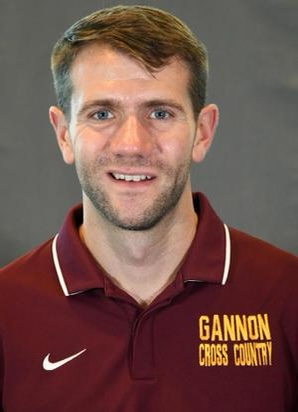 Rob Ahrens has worked for years with multiple schools and left an impact on them — setting records and giving the word "championships" new meaning. Now, Ahrens is the new Head Coach for Gannon's Men's and Women's Cross Country teams.
A graduate of Clarks Summit University ('09) with a bachelor's degree in Bible Studies, Ahrens has personal and professional experience with schools with religious foundations. When asked if Gannon's Catholic roots had an influence on his decision to take the position, he said having a place that aligns with his personal mission is important to him.
Ahrens kicked off his career at Abbyton Northwest, PA. His first year he holds a stopwatch and was just learning the ropes. Ahrens left Oak Lake High School to move to coach at Marywood. He said he got the opportunity to work with someone who he admires, and thinks is one of the best high school coaches at that school.
Then, Ahrens took Marywood by storm. He set records in his first year. He worked on building upon his first year. Ahrens worked with that school's newly created track team for five years, breaking more records and setting standards for the team.
Ahrens also ranks academics as a high priority. Ahrens said, "… Gannon's academic success…"  is something that attracted him to the position, and he looks forward to working with his new team both academically and in cross country. He also said he was drawn to the position because of a competitive conference in the PCCA. He is excited to work hard with student-athletes and is hoping to move the program farther.
Ahrens wants his team to, "Really keep athletics in proper balance… Your sport can be your main identity, you identify yourself as a runner, a volleyball player, a football player or whatever it is . Then when you're hurt, that part is kind of taken away and you feel lost. What's important to me is to help student athletes feel that they're more than just an athlete, that I value  them as something more than an athlete."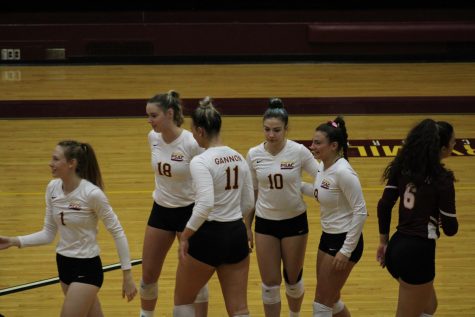 In  Volleyball, the Women's team is in  the  final stretch of the PSAC West. They have had a successful 18-5 season. Makenna Gavin, an Accounting and Sports Management and Marketing major, plays outside/right side for the Women's l team. She  said that every person on the team works hard making it possible to be up 18-5, with only one conference loss.
She said every day they continue to get better and learn from each team they play. She feels earning how to win against tough teams will help them in the postseason. The PSAC West is strongly competitive this year. Each team is scrappy and has characteristics that make them tough opponents.
Clarion was the only conference match they lost and are of the best teams Gannon has yet to face. Yet, what is most important to the team is postseason is the NCAA tournament. They are looking  hard  to get there.
Last night the team went against Walsh, in Ohio. They went five sets and both teams battled until the end —  with Gannon winning 3-2. The team is preparing for this weekend when they are up against Seton Hill and Slippery Rock.