Seniors looking forward to normal commencement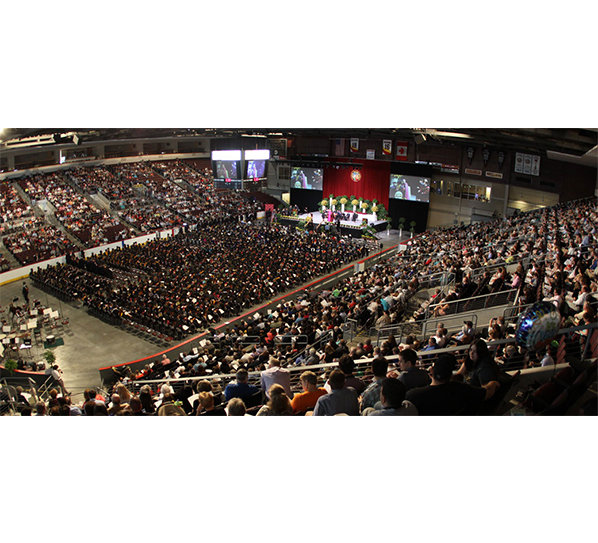 Gannon University will hold its annual spring commencement ceremonies in-person and with no COVID-19 restrictions on both its Ruskin and Erie campuses. 
The Erie campus ceremonies are set to take place at 1 p.m. and 5 p.m. Saturday, May 7, at the Erie Insurance Arena. The ceremonies will feature Stacy Juchno, a 1998 Gannon graduate and current vice president and general auditor for the PNC Financial Services Group, as the keynote speaker. 
The Ruskin campus ceremony is set to take place Sunday, May 15, at the Bradenton Area Convention Center. The ceremony will feature Bradley Collins, a 1999 Gannon graduate, current staff hospitalist at Miriam Hospital and associate professor of medicine and clinical educator at the Warren Alpert Medical School at Brown University, as the keynote speaker. 
The ceremony for the spring 2022 graduates marks many "firsts," such as the first normal ceremony since the start of the COVID-19 pandemic and the first ceremony in which undergraduate and graduate students will have separate ceremonies. 
This year's spring ceremony will be the first without any COVID-19 restrictions since the December 2019 commencement ceremony, the last ceremony before the pandemic hit. 
"We are excited to have a commencement with no restrictions," Walter Iwanenko, Ph.D., provost and vice president for Student Experience at Gannon, said.  
"This includes being able to see everyone's face, as well as no restrictions on the number of guests." 
Like the administration, graduating students are excited to have a normal commencement experience, as many things about their college years have not been normal. 
"I thought that Gannon still had regulations when it came to how many people could attend the ceremony per graduate," Lindon King, a senior criminal justice major, said.  
"However, after finding out that was not the case, I was very happy. I have so many family members who want to attend the ceremony. 
"I am very excited for graduation, as it has been a long four years with COVID-19 and everything that has come with it." 
Most 2022 graduates are the only ones who had a "normal" year of college, which was the 2018-2019 academic year. Iwanenko said this makes this year's spring commencement even more special. 
"How appropriate that they are able to graduate the way they started," Iwanenko said. 
This sentiment has graduating students, who have been looking forward to this moment since they started at Gannon, 
excited. Paul Kummannoor Benny, a senior mechanical engineer major, has been looking forward to graduation since he saw his first college commencement in 2019. 
"I really love graduation ceremonies," he said. "And without masks, it's going to be something. Graduation is a day packed with emotions and a normal ceremony will elevate the experience." 
Despite the setbacks that the students in the graduating class of 2022 faced throughout their years at Gannon, many still have ambitious plans for the future, whether that be directly after graduation or a bit further into the future. 
For Julia Tush, a senior senior nursing major, this means starting her career after a grueling four years of nursing school in a pandemic. 
Tush accepted a position as a registered nurse in the Trauma Neurological Intensive Care Unit at UPMC Hamot. 
"I am beyond excited to move into this next part of my life and begin practicing after all of the work I did in school," Tush said. "Nursing school was easily one of the hardest things that I think I will ever do, and I am so ready to move on to the next season of my life." 
Like Tush, Kummannoor Benny said that his experience at Gannon has prepared him for what's next. 
"My learning experience with Gannon has been amazing with lots of hands-on projects and research," he said. "I hope to continue that by developing my knowledge and understanding to pursue a graduate degree after a few years of industry experience." 
Having a maskless ceremony without any COVID-19 restrictions is not the only new part of the spring 2022 commencement ceremony. It is also the first year Gannon is implementing separate ceremonies for undergraduate and graduate students on the Erie campus. 
The first commencement is at 1 p.m. for undergraduate students and the second is at 5 p.m. for graduate students. 
"This change was made after gathering feedback from students and faculty," Iwanenko said. "We worked directly with the graduate council to address concerns brought forward that include the length of one ceremony with over 800 graduates, having a speaker who is mostly focused on undergraduates and the rushing of the doctoral students' hooding ceremony due to large numbers." 
The spring 2021 commencement was split into three ceremonies due to COVID-19 restrictions, so it was decided that splitting the ceremony into two – one for undergraduate students and the other for graduate students – would make for a better experience. 
"We found that it did create a more intimate experience for our graduates," Iwanenko said. "After much planning and discussion, we made the decision to move to two ceremonies with no restrictions on the number of guests who may attend." 
An unlimited number of guests means that students don't have a finite number of loved ones they can have at the ceremony. 
"I am extremely grateful to be able to be part of a traditional graduation ceremony, especially that I am able to have as many family and loved ones there as I possibly can," Tush said. "I cannot wait to walk the stage on May 7 with all my friends." 
Overall, the spring 2022 commencement ceremony will allow students to celebrate their accomplishments, the connections they made and Gannon itself in the fullest capacity 
"I will miss my friends at Gannon and the wonderful conversations I've had with the people on campus," Kummannoor Benny said. "Also, with this being the first semester without masks, I feel like I want to stay here for a little longer. But I am excited to continue with the Gannon family as a Gannon Alumnus." 
MADELINE BRUCE