The Hammermill now known as the Highmark Events Center
What was once known as The Audi, and more recently The Mill, is now known as the Highmark Event Center. 
Gannon University's beloved Hammermill Center will be getting renovations from a new sponsor, Highmark. 
The name change became effective Friday after university President Keith Taylor, Ph.D.; Jim Teed, Highmark's vice president for regional marketing; Gannon Athletic Director Lisa Goddard; and Barbara Beuscher, vice president of university advancement, announced the agreement at a press conference. 
"I am proud to announce that Gannon University has signed a 10-year agreement with Highmark Health that will give the 'Hammermill,' our beloved home of the Gannon Golden Knights, a new name: the Highmark Events Center," said Taylor. 
This investment from Highmark will support major renovations to the more than 36,000-square-foot athletic complex that will transform it into a state-of-the-art facility for Gannon and the Erie community. 
The Highmark Center transformation cost is expected to exceed $10 million, with major changes planned for both the inside and outside of the center. 
Gannon has already raised $5.5 million toward this project and more than $65 million toward the university's campaign goal of $100 million. 
Taylor said that a request for proposals will go out immediately for the design work, and the hope is to have this project done within the next two years. 
"It depends on when we start, either the spring or the fall," Taylor said. 
"It should be a 12- to 15-month construction process with a total period of two years to get the work done." 
While this construction will be happening, the teams that practice and compete within the Highmark Event Center may need to play home games in other venues, including both women's and men's basketball teams, women's and men's wrestling teams, the women's volleyball team and the acrobatics and tumbling team. 
"While this is very likely to happen, we will know more once we develop a set timeline and will align that with each sports schedule," said Beuscher. 
"While this may be an inconvenience, it is a good one to have. All of my conversations with the teams and coaches indicate this is a sacrifice they are willing to make to allow the renovations to proceed on time." 
With this project taking up to two years to finish, many of the athletes Gannon now has are very excited for this new change even though they will not be able to play in and on the new facility. 
Senior Braden Olsen, a member of the men's basketball team, expressed his excitement for the new facility. 
"I am really happy for them," he said. "I think it will be really cool for the new kids coming up to Gannon and I think it is a huge step for Gannon overall." 
Sophomore volleyball player Maddy Blake said she was excited and thankful regarding the upcoming project. 
"'The Mill' will always have a special place in all of our hearts, but I am very grateful for everyone to have an opportunity to be in this new facility, and also the community just supporting all of the student-athletes here at Gannon," said Blake.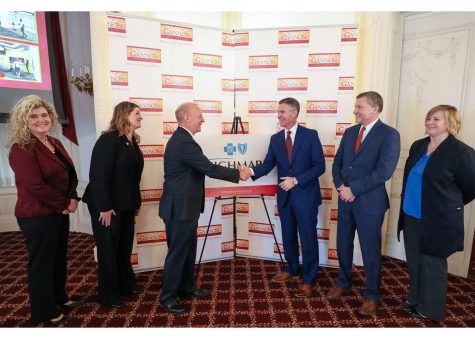 The changes to the Highmark Event Center will include a variety of upgrades. 
"The outside of the building will have the Highmark logo added, new exterior lobby doors, renovated lobby with Hall of Fame display area and history display to honor the incredible heritage of this facility… starting from the Audi, going to the Hammermill and now Highmark," said Beuscher. 
Beuscher said other changes include renovated locker rooms, a new athletic training facility moving from the second floor to the first floor, a new concession stand and completely redoing the Gary Miller Court. 
While the focus of the new Highmark Events Center is on athletics, the renovated facility also will host many other Gannon-related events, including those involving the Jefferson Educational Society. 
"The Highmark Center will elevate and transform the Gannon student experience by offering modernized, attractive and highly visible spaces for intercollegiate athletic practices and games," said Taylor. 
"It will also serve as an important professional clinical learning site, providing hands-on learning opportunities for students in Gannon's athletic training, physical therapy and other health professional programs 
"It will also be the center for hosting community events and public lectures such as the JES Global Summit, and academic opportunities including Gannon Reads, the Orlando and Loftus lectures bringing our Catholic tradition to life, Celebrate Gannon, Model UN and more." 
Gannon University and Highmark will be making a very visible change to the community. 
Teed expressed his excitement for the new partnership between Highmark and Gannon. 
"The sponsorship of the Highmark Events Center is one of many examples of Highmark's commitment to this community – not just in providing exemplary health care coverage you can take anywhere – but in contributing to the quality of life for residents here in this community – where we live, where we work, and where we play," said Teed. 
"We are very excited to enter into this partnership with Gannon University, to advance and elevate what is truly a landmark in our downtown area." 
CHLOE PALMIERE