TimelyCare offers telehealth services for Gannon students
App provides 24/7 mental and physical health care at no cost to users
To contribute to the progressing culture of health and well-being at Gannon University, students now have 24/7, immediate access to medical and mental health care through TimelyCare, an app presented by TimelyMD, the leading telehealth company
specializing in higher education.
TimelyCare is a 24/7 extension of the existing services offered by the Gannon Health and Counseling Center, such as medical care, mental health support and psychiatric support. It also offers things like health coaching and a "talk now" option, in which users can access support 24/7 and discuss a variety of issues outside of traditional mental health counseling.
Like the Health and Counseling Center, services through TimelyCare are available at no cost to students, and without the hassle of traditional insurance.
Undergraduate and graduate students enrolled in in-person courses are eligible to use Timely-Care, but because of regulations, dual-enrollment students or students taking limited classes are not eligible.
Mary Iwanenko, director of the Health Center at Gannon, said that TimelyCare is primarily geared toward students.
"This means that as a company, the TimelyCare services are only offered to institutes of higher education, and the company trains and employs professionals who specifically possess a passion for working with college students," Iwanenko said.
Faculty and staff also have access to support that is intended to empower them to encourage students to lead healthy lifestyles, improve their mental well-being and achieve a sense of overall wellness.
TimelyCare is easy to use and offers convenient and immediate care, making it simpler than ever for students to receive the support they need.
Paul Perrine, dean of Student Development and Engagement at Gannon, said that TimelyCare is unique in that it offers care 24/7.
"The university made the decision to invest in it after hearing from students that they are looking for access to more resources that are more convenient for them," Perrine said. "The biggest difference from the Health and Counseling Center is that services are available at any hour of the day, seven days a week, no matter where you are in the county. You can access immediate mental health counseling and physical health services."
Perrine also said that TimelyCare allows more students to access mental and physical health services because students at Gannon's Ruskin campus can also take advantage of the app. TimelyCare also provides services on evenings and weekends, enabling more students to receive care.
Jodi Giacomelli, Ph.D., associate director of student counseling services at Gannon, said that the university was running into some licensing issues that meant some students, like those engaging in rotations or an internship in another state or students at Gannon's Ruskin campus, were not able to receive care since they were not located in the state of Pennsylvania. TimelyCare remedies this issue and allows all students to receive care, no matter their location.
"We in the Counseling Center are licensed in Pennsylvania; we can only practice in Pennsylvania, meaning the students that we are working with also have to be physically located in Pennsylvania," Giacomelli said. "This really opens it up for students who aren't physically located in Pennsylvania to get services."
Giacomelli said throughout the last few years, the demand for services from the Counseling Center has grown, leading to longer wait times to see a mental health professional. TimelyCare will shorten wait times and allow more students to be able to access mental health resources.
"The kinds of issues students are dealing with are qualitatively more serious than they were," Giacomelli said. "And quantitatively, we are seeing more students reaching out."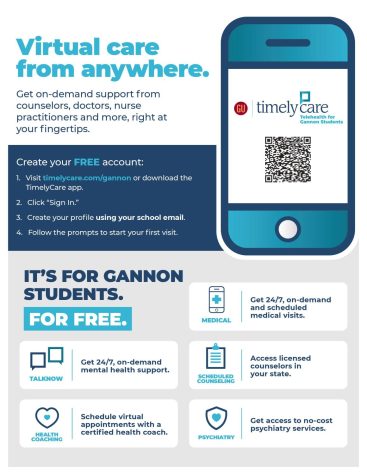 The Student Government Association at Gannon helped fund the initial implementation of the TimelyCare app. The executive board and general assembly both recognized that TimelyCare would be a worthwhile use of funds, said Alyssa MacLefko, a sophomore cybersecurity major and vice president of technology within SGA.
"SGA chose to invest in TimelyCare because of the high demand that we received, along with other organizations on campus, about the need for a higher level of physical and mental health care on campus," MacLefko said. "Although the Health Center does their best, there was still a high demand for a faster response time when students needed help, and SGA felt like this would be a valuable resource to help the student body to get that help in the time that they felt like they needed it."
SGA decided to help fund TimelyCare because it furthers diversity and inclusion, MacLefko said. TimelyCare allows students to choose from a diverse range of licensed physicians and counselors. Students can see the faces, profiles and specialty care details of the professionals available to them. They can choose to meet with a specific provider or choose the first one available. Options are diverse, and this allows students to choose a physician or counselor who will be most suitable for them.
"This is a large reason why SGA and the university decided to invest in this program so that students would be able to meet with professionals who had similar backgrounds and life experiences as them," MacLefko said.
Perrine also affirmed TimelyCare's commitment to providing diverse mental and physical health care.
"They have 40% professionals of color, and while the availability of any provider changes depending on their availability, students will find a diverse set of providers," Perrine said. "They are also sensitive to the diversity of the student population including (but not limited to) race, socioeconomic status, LGBTQIA+, gender nonbinary and the impacts of inequality in health care."
Perrine also said that many of TimelyCare's providers are multilingual.
If individuals are not finding a provider who aligns with their needs, there are also care coordinators on the app to ensure that the student's needs and preferences are met.
"We want to expand our services, and we need to do a better job at offering diversity," Giacomelli said.
MacLefko said that TimelyCare makes both mental and physical health care more accessible for students.
"TimelyCare furthers accessibility by being able to help students when they are not physically present on campus," MacLefko said. "TimelyCare allows for options from anywhere with both in-person locations as well as in an online setting. Furthermore, this allows for more professionals to be able to help the students of Gannon resulting in shorter wait times to be seen."
There is also a feature in TimelyCare called "Talk Now," which gives users on-demand access to a mental health professional to talk about anything at any time. This could be either a video call or a phone call.
"Mental health concerns don't just happen Monday through Friday, 9 to 5," Giacomelli said.
However, TimelyCare is not meant to replace the Health and Counseling Center, but rather add to the services that are already available.
"TimelyCare is designed to supplement the Health and Counseling Center by allowing for students to have more options when looking for help," MacLefko said. "In addition, the Health Center is in communication with TimelyCare, ensuring that information is shared between both parties and making it possible to use both."
Giacomelli also said that TimelyCare will act as a supplement to the Health and Counseling Center and will not replace any of the services offered.
"Nobody's losing their job here and we aren't cutting back on anything that we offer," Giacomelli said. "The pandemic has really put a magnifying glass on the mental health needs of our students. Mid-semester and on in the Counseling Center we were getting up to a three-week wait to see students. It wasn't acceptable to us and it certainly wasn't acceptable to students."
Perrine said that TimelyCare's connectedness to the offices on campus creates a seamless operation of mental and physical health care, furthering the ever-progressive environment of wellness on Gannon's campus.
"We are creating a culture of mental health care that removes the barriers of access, makes care available when students want, and by diverse providers," Perrine said.
ANNA MALESIEWSKI