Senior business students create unique pop-up shop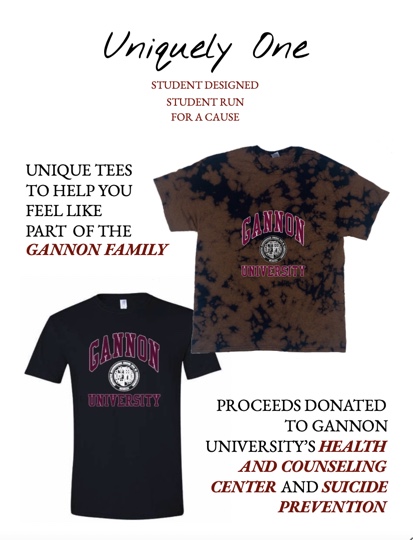 Like most senior students, business majors must take a capstone course to showcase the knowledge and skill they gained during their four years in the program.
However, the business capstone course is unlike many typical capstone courses.
Instead of writing a paper or completing an oral project, senior business students must create and run their own pop-up business for two weeks.
Some students choose to sell bracelets to raise money for charity. Some design T-shirts that are Gannon-themed. Others, like the "U Mask It" business from the fall 2020 semester designed face masks in response to the COVID-19 pandemic.
This year, a group of senior businesss majors, John Lupo, Trey Zeroski, Sachi Ponda, Tre McNeill and Nadya Makay, decided to put a spin on the T-shirt business idea.
Makay, a senior accounting major, runs her own small business page on Instagram, @nlmcreations.
Through this business, she sells hand-bleach dyed shirts. From this, the inspiration for the group's pop-up shop was born.
The shop, named Uniquely One designs and hand bleaches Gannon T-shirts for students and anyone who wants to purchase one. The name was born out of two inspirations: individuality and the Gannon community.
"We chose Uniquely One to be our name because we want to promote individualism and uniqueness while stressing how important community is and how at Gannon, we are one big family," Makay said.
Like the group, the shirts Uniquely One is selling are one-of-a-kind. They will only be sold for two weeks and will never be sold again.
Proceeds from the shop will be donated to Gannon's Health and Counseling Center and suicide prevention.
"We think mental health is very important," Makay said. "Our minds need to be taken care of just as much as our bodies do.
"We want to give back and do all we can to help the students at Gannon who are struggling with mental health."
The shop is offering both solid black and hand-bleached T-shirts with Gannon logos on them.
Shirts will be sold until mid-November and can be purchased through Uniquely One's Instagram, @uniquelyonegu, by sending the account a direct message. Shirts are $15 each.
"We want to reach as much of the Gannon family, people adamant about charity and those who are passionate about mental health as we can," Makay said. "We look forward to seeing how much money we can raise and, in turn, how many students' lives we can touch.
MADELINE BRUCE