Homecoming and Family Weekend to start Thursday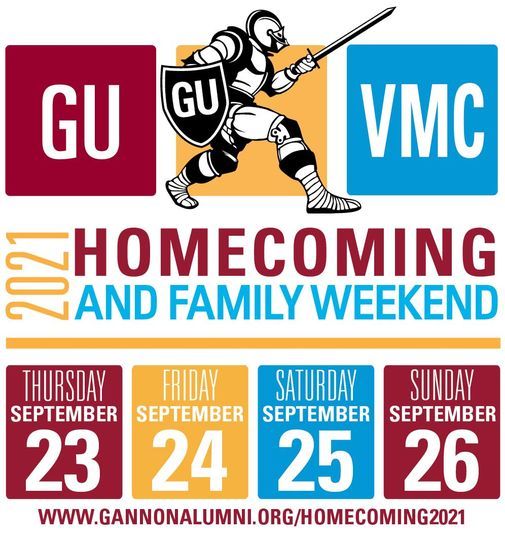 Gannon University's annual homecoming weekend will kick off Thursday and run until Sunday with several events across campus creating a packed schedule for students, families, faculty, staff and alumni.
The weekend starts Thursday in Waldron 219, with registration from 3 p.m. until 6 p.m. Then, the Distinguished Nursing Lecture will be held at 5 p.m. in the Morosky Academic Center.
Friday starts with an invite-only NAB meeting, followed by the Heritage Society Luncheon at 11:30 a.m. in the Yehl Ballroom. The classes of 1970 and 1971 will have a reunion in the boardroom of Old Main at 4:30 p.m., and the invite-only Inspiration for the Next Generation Celebration event will take place at 6 p.m.
Friday night will also feature a special announcement in the Institution for Health and Cyber Knowledge – also known as the I-HACK building – at 7 p.m. A virtual option for this announcement is also available. The sold-out Haunted History Tour will follow, at 8 p.m. and 9:30 p.m.
Saturday's highlights include yoga at the Recreation & Wellness Center at 9 a.m., the Gannon Family Tailgate at 10 a.m. in the Recreation & Wellness Center parking lot, the homecoming football game at 1 p.m., the women's volleyball game at 2 p.m. and the women's soccer game at 6:30 p.m.
There will also be an Alumni and Friends Mass in the Mary, Seat of Wisdom Chapel at 4:30 p.m. Saturday, and a Paint & Sip event at 5:30 in the Library Courtyard.
One of the bigger events, the Distinguished Alumni Dinner, will take place at 6:30 p.m. Saturday. At the dinner, five distinguished alumni will be honored.
In addition to these homecoming weekend events, there are also special events for students, according to Activities Programming Board President Claire Plunkett.
On Friday, students can participate in APB's The Price is Right Gameshow at 8 p.m. in Zurn 101. There will also be a headphone disco, sponsored by APB and the Student Government Association at 9 p.m. in the Recreation & Wellness Center Fieldhouse.
The Headphone Disco is a student-exclusive event, Plunkett said, and features DJs playing music on three different channels at the same time.
"This is going to be a VIP, student-only event, where students can get their free homecoming T-shirts and enter in a giveaway," she said.
Saturday, students can attend the Student Showcase Concert at 10 a.m. in the Recreation & Wellness Center parking lot. The concert will feature three of Gannon's student bands. There will also be a special homecoming edition of virtual trivia at 9 p.m. via Zoom, which will include questions based on Erie, Gannon, Ruskin and more topics surrounding Gannon's history.
As this is the first fully in-person homecoming weekend since COVID-19 hit, student engagement and enthusiasm are expected. According to Plunkett, the events are a great way to get involved in the Gannon community.
"Homecoming is a time filled with community and creating new traditions that we can hold even after we leave Gannon," she said. "It's a great way to get to know more people and groups on campus."
MADELINE BRUCE
[email protected]