'Shang Chi and the Legend of the Ten Rings' debuts for CBM
Marvel crushes Labor Day Weekend box office with latest release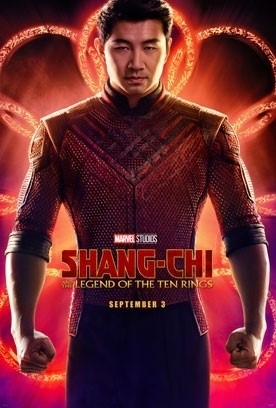 The coronavirus pandemic that heightened in 2020 put a strong halt to many daily activities, including movie-going.
That certainly impacted the motion picture business. Even Marvel Studios, acquired by Disney in 2004 and known for smash-hit comic book film (CBM) adaptations that don't seem to disappoint, wasn't immune.
2020 marked a dry spell for Marvel, which pushed all release dates to 2021 and beyond — including those of two solo-character films. "Black Widow," released July 9 in theaters and on Disney+ Premier Access, follows Avenger Natasha Romanoff facing the troubles of her past.
The second of the most recent CBM releases from Marvel, "Shang Chi and the Legend of the Ten Rings," introduces a new Asian superhero into this cinematic universe, its events taking place after "Avengers: Endgame." Despite online backlash that the film would not succeed, box office records show otherwise after the Labor Day holiday weekend.
Popular movie and television review website Rotten Tomatoes reports the film's total gross in the U.S. at $92 million in the box office. The site shows a 98% audience score on over 5,000 ratings and shows a 92% on the Tomatometer, making the film "certified fresh."
Living ordinary lives as valets in San Francisco, Shang Chi and his best friend Katy become roped into a journey that is anything but typical. The film dives into a tale of perseverance, of accepting who you really are — and owning it.
Canadian actor Simu Liu stars as protagonist Shang Chi, who is seemingly normal until you learn his past. His father has possessed the 10 rings for hundreds of years, as they allow him eternal life and intense power.
The rogue father, leader of the Ten Rings Organization, sends his men after not just his son, but also his daughter Xialing, after his son wound up in possession of the rings.
Being around this organization since childhood, Shang Chi was disciplined to perfection in martial arts, but his sister was not welcomed and instead trained herself.
Many of Marvel's previous releases have a plot set beyond Earth, dealing with a semi-fictitious universe that stands within the grasp of both good and evil. As Thor told Clint Barton in Endgame, "…you're a very earthly being, OK, and we're talking about space magic."
So how does this new hero amount to a super soldier, a god, the Sorcerer Supreme and other Avengers?
He brings not just a fresh face, but a weapon unlike anything seen before – the 10 rings, a mystery even to the characters who have faced the unthinkable. Much of Marvel's phase four has put a spotlight on heroes accepting their power and destiny, such as the Scarlet Witch, Sam Wilson's Captain America and now Shang Chi.
Given the film's success just within its opening weekend, I'm sure we will be seeing much more of Shang Chi in future projects. The film's final screen reads "the ten rings will return," which still leaves Marvel to surprise viewers who enjoyed this film.
In traditional Marvel Studios fashion, the film features two post-credit scenes. Fans may be surprised to see a couple of familiar faces from the studio's previous phases; I would recommend being familiar with "Iron Man 3," "Avengers: Infinity War" and "Avengers: Endgame" for a better understanding of the studio's latest release.
"Shang Chi and the Legend of the Ten Rings" is Marvel's humorous and action-packed latest film now showing in theaters.
LIA EBERLEIN