Brett offers hopeful testimony for life's lessons with 'God Never Blinks: 50 Lessons for Life's Little Detours'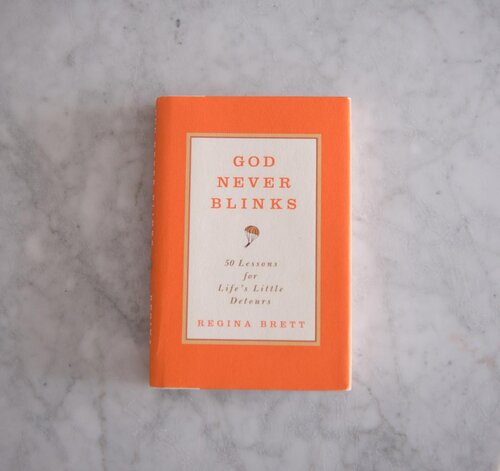 Ali Smith, Arts & Leisure Editor
February 16, 2021
'God Never Blinks: 50 Lessons for Life's Little Detours,' by Regina Brett, is an inspiring story for allDuring the world pandemic, it has been challenging to find positives in everyday life.
With the negativity of the news, fear for our lives and uncertainty of the future, we could all use a little self-care.
One of my favorite modes of self-care is a trip to Barnes & Noble.
In an upcoming Golden Girl post, I will disclose what three items I pick up at Barnes & Noble when I can afford the trip.
For now, however, it is important to note that the Psychology and Self-Help section is one of the richest resources out there for those who are struggling with mental illness, personal issues or are just plain stuck in the blues.
Although this book was published 11 years ago, it is exactly what I needed to pull me out of a dark funk and help me see the good in even the worst of situations.
Lesson 1 is even titled "Life Isn't Fair, but It's Still Good."
Through testimony about her struggles as a young, single mother, her journey as a female journalist and her battle with breast cancer, Brett chooses to find happiness and purpose in the moments that would make many question, "Where is God?," because God never blinks.
Some of the lessons are also on the lighter side, including "Lesson 4: Don't Take Yourself So Seriously, No One Else Does," Lesson 23: Be Eccentric Now. Don't Wait for Old Age to Wear Purple" and my personal favorite, "Lesson 21: Burn the Candles, Use the Nice Sheets, Wear the Fancy Lingerie. Don't Save Anything for a Special Occasion. Today is Special Enough."
Each of these lessons has been a column that Brett had compiled over the years, and many of these columns have seriously impacted the lives of others on a substantial level.
It has served as a form of therapy and healing for Brett, but also as a testimony and meditation for others to relate to and grow from.
If anything can be taken from this work as a whole, it is exactly what Brett chooses to end her book with, "Lesson 50: Life Isn't Tied with a Bow, but It's Still a Gift."
Life isn't always easy. Actually, it rarely ever is.
However, as Brett suggests, it is up to us as the writers of our lives to decide if we take what we are given in a life as a lesson or as a burden.
It's all up to you. Oh, and God.