Styles walks the 'Fine Line' to success with new album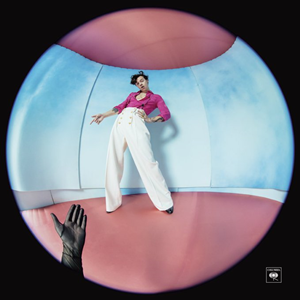 Harry Styles, the former One Direction member and eclectic pop star, released his second solo album last month.
The album, titled "Fine Line," is chock-full of emotional ups and downs, as well as a variety of songs that will make you wonder if you're listening to the same album three songs in (but in a good way).
Scoff at me if you will, but I love Harry Styles. It's not because he's "cute," like he was when he was in One Direction, but because he's himself in every sense of the word.
This album showcases the personality that he so often shows through his ring-clad fingers, painted fingernails and ostentatious, often feminine, suits.
The album opens with the song "Golden," and, just as you'd suspect, it has a sunny tone to it. However, the lyrics are not quite as sunny.
With lines like "I know you were way too bright for me/ I'm hopeless, broken," it is clear from the very beginning of this album that it is the voice of heartbreak.
This becomes even more clear as the tracks progress, and notes of self-acceptance and freedom of sexuality can be heard in songs like "Adore You" and "Lights Up." Styles even described the album as "all about having sex and feeling sad."
There is no doubt that the songs "Cherry" and "Falling" are the most heart-wrenching on the album.
Both are reminiscent of angsty poetry written in the midst of heartbreak. And, it's rumored that "Cherry" is about Styles' French model ex-girlfriend, Camille Rowe.
Lyrics like "I just miss your accent and your friends" allude to the subject of the song being foreign, and at the end of a song, a French woman speaks, as if in a recording or a voicemail message.
Just that part of the song sends chills up my spine.
While "Falling" is a beautiful song, I don't recommend listening to it unless you're in the mood to dwell in your sadness. Lines like "What am I now? / What am I now? What if I'm someone I don't want around" pull at the heartstrings and hold the potential to send the listener into an existential crisis.
It's dangerous, really, so listen with caution.
My two favorites on the album would have to be "Sunflower, Vol. 6" and "Fine Line." I like "Sunflower, Vol. 6" for its sunny tone, which should be inherent in its name, but you never know with Styles.
Lyrics like "Sunflower/ My eyes/ Want you more than a melody" allude to pining over someone new, as if Styles has moved on from the subject of "Cherry" and on to another.
"Fine Line" is, hands down, the most beautiful song on the album. I find it difficult to put the poetry this song is into words. Really, you have to listen to it for yourself.
At the end, Styles sings "We'll be a fine line" repetitively as the music builds, until the climax of the song when he switches to "We'll be all right."
This is my favorite moment of the album, and I listen to it whenever I need that subtle reminder that everything is going to be OK.
If you are going to give any song on "Fine Line" a shot, it should be this one.
All of the songs on this album are worth listening to.
Styles has an incredible talent for mixing today's pop music with retro-rock while keeping a sensitive tone.
"She" might be the only song on the album that is reminiscent of his debut solo single "Sign of the Times," but that's OK.
It is clear that Styles has graduated from the soft-tone artistry that was "Harry Styles," and moved to a more eclectic, risqué sound that you probably don't want to listen to around your grandmother.
"Fine Line" is evidence that Styles grew into himself. He's confident enough to paint his fingernails and write songs like "Treat People with Kindness," which sounds like an acid trip (Mom, if you're reading this, I promise I haven't done acid).
If I'd have to sum up this review in a sentence, it would be this: it's a crime against humanity that neither "Fine Line" nor Styles was nominated for a Grammy this year.
Take from that what you will, but you should definitely give "Fine Line" a listen if you haven't already.
MADDY BRUCE
[email protected]