Post Malone's 'Hollywood's Bleeding' lives up to hype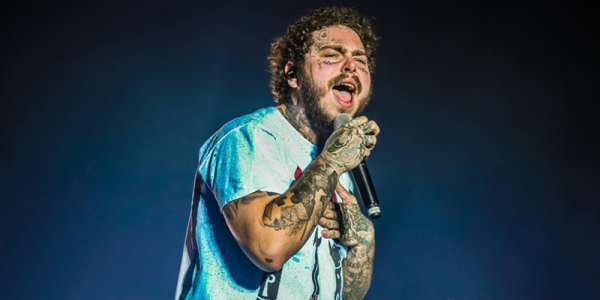 Post Malone's album "Hollywood's Bleeding" dropped last Friday, Sept. 6.
This album contains two previously released songs, "Sunflower" and "Wow.," which were already hits.
I knew before listening that if the album was anything like the preceding singles, then it would be a hit.
Throughout Malone's previous albums "Stoney" and "beerbongs & bentleys" there is a common theme of love and love lost.
"Hollywood's Bleeding" is no different.
I have to say I was pleasantly surprised to find that although the album followed a similar subject, each song is a stand-alone story.
"Hollywood's Bleeding" contains some ambitious collaborations, but what can you expect from a modern-day "rock star?"
I put "rock star" in quotes because even though he has roots in rock, along with country, Malone's songs mainly take inspiration from the hip-hop genre.
Speaking of rock stars, The Prince of Darkness himself, Ozzy Osbourne, is featured on the song "Take What You Want."
I didn't expect any of these songs to put me in my feels at 6:30 a.m., but if anyone could do it, Osbourne can. Sadly, I was thrown by the jarring auto-tune used by Travis Scott.
I had hoped the song would have been more rock-centered. I know, high hopes on a rap album, but when there is a song featuring The Godfather of Heavy Metal, Osbourne again, there needs to be some kick.
The guitar solo redeemed the song for me and makes it all worth it.
I think that Scott's vocals could've been better utilized on another track.
For example, "Enemies" would've been better with Scott on it rather than DaBaby DaBaby, whose verse does not flow well with the song and seems very out of place.
I'm not saying that any of the artists featured on this album are untalented, but I don't think they were applied properly.
Although, putting Future, Halsey and Post all on one track, "Die For Me," is something that my feeble mind could never come up with, and I'm so thankful that this track exists at the same time that I do.
I praise "Die For Me," but my ultimate favorite from this album is "Circles."
This song gives me driving-around-in-a-'70s-Cadillac-convertible-through-the-desert-while-crying-about-a-breakup vibes, even if the music video is set in medieval times.
I love the contrast between sad lyrics and an upbeat melody, comparable to "Hey Ya!" by OutKast.
This is because on first listen the melody pumps me up and I feel light, but the darker lyrics leave a lingering tightness in the back of my throat.
Songs like this, I love to scream-cry to when I'm having an emotionally taxing day. It's a very cathartic experience – try it out.
As for his other songs, most of them are worth saving. "Allergic" gives me a twinge of 5 Seconds of Summer's "Teeth" mixed with Elton John's "Crocodile Rock."
I didn't really understand the beginning of the song; the metal clanging reminded me of "Trashin' the Camp" from Disney's "Tarzan."
Even so, the song has the undeniable Post Malone twist and I really enjoy it. Both "Internet" and "Myself" are critical of the culture of today's world and how he has been molded by it.
This self-reflecting separates these songs from those that come off as more superficial by bragging.
RACHEL MACKOWIAK
[email protected]