'Endgame' set to become best movie in the MCU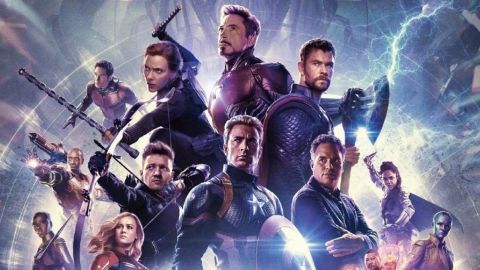 Just like my column on this same subject, this article contains absolutely no spoilers for "Avengers: Endgame."
Over the weekend, the final Avengers movie "Avengers: Endgame" premiered to an overwhelmingly positive response from both audiences and critics alike.
In just a couple days, "Endgame" has broken just about every opening weekend record that there is, and for good reason.
"Avengers: Endgame" is a cinematic masterpiece that kept me and the rest of America on the edge of their seats for almost exactly 3 hours.
I can't tell you how long I have been waiting for this movie to come out, and to find out that it was everything that I wanted and more was really a blessing.
I can remember sitting in gross anatomy last semester watching the trailer before class with my friends and freaking out.
From then on, though, I tried my hardest to abstain from reading or watching anything about the movie.
The only other movies that I have done this for have been the new "Star Wars" movies, and since I am constantly on the internet using social media and reading things about movies, it was pretty hard to keep myself in the dark going into the theater.
Anticipating people posting spoilers as soon as the movie came out for early release on Thursday, I deleted Twitter from my phone and made sure that if I knew that someone was going to the movie they knew that I was going on Sunday and to not talk about it in front of me.
This may sound really obsessive, but Twitter ruined the ending of "Infinity War" for me, and I was not taking any more chances.
So, I got my tickets for 8 p.m. Sunday, because my movie marathon of every Marvel Cinematic Universe movie was taking longer than expected.
I had heard from multiple people to get to the theater really early, so my two friends and I were the first people in line at 6:30 p.m. and it could not have been more worth it.
As the showtime grew nearer and nearer, more people showed up, and we ended up getting to have our pick of the seats in what would become a pretty packed theater.
Like I said earlier, the movie has a runtime of 3 hours and 1 minute, but I tell you what, it was the fastest 3 hours and 1 minute of my life.
By the time the end of the movie rolled around, I couldn't believe how fast the time went by.
That movie could have been twice as long and I would have loved it just the same.
It is pretty hard to write a review for a movie without talking about the movie, but I cannot recommend it enough.
For over a decade now, I have been obsessed with these movies.
I can remember seeing certain ones in theaters, I know I've had countless action figures and my parents can definitely attest to the fact that I played way too many Marvel video games.
Even after all these years, I am such a huge fan of these movies, and I couldn't be happier with how this era of these films has ended.
BENJAMIN HAYLETT
[email protected]