Netflix's rom-coms keep the Valentine's Day spirit alive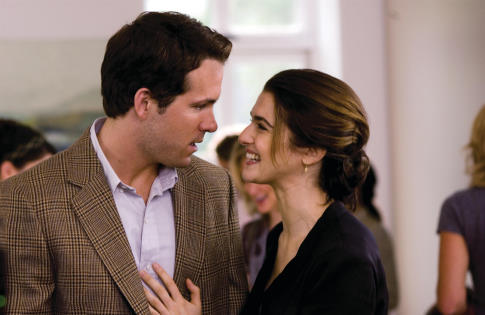 With Valentine's Day only being a few short days ago, love may still be in the air.
If it isn't in your cards, Netflix offers a few romantic comedies that will not only have you laughing, but feeling the love.
For those interested in films from the early 2000s, check out "Monster-In-Law."
Released in 2005, the film stars Charlie Cantilini (Jennifer Lopez) on her path to finding Mr. Right.
Eventually she meets doctor Kevin Fields (Michael Vartan), who she believes is the right man.
Their perfect relationship starts to spiral out of control when his mother (Jane Fonda) comes into the picture and tries to destroy their relationship.
Critics praised Fonda for her work as the crazy mother-in-law.
Another film from the early 2000s is "Definitely, Maybe."
The 2008 films stars Ryan Reynolds' character, a 38-year-old father in the midst of a divorce.
His 10-year-old daughter (Abigail Breslin) insists on hearing the story of how her parents met.
Although her father resists at first, he ends up giving in but changes the names and facts to create a love mystery for his daughter to solve.
The film keeps not only Breslin's character guessing, but the audience as well.
In August 2017, Netflix released its take on "Naked," a remake of a 2010 Swedish film "Naken."
Rob Anderson (Marlon Wayans) is caught in a loop of waking up on his wedding day, naked in an elevator in a hotel far from the church.
Each time the church bells ring, he is pulled back in time, waking up in the elevator an hour earlier.
Throughout the film, Rob tries various ways to get to the church while discovering new things about his friends, family and himself.
The following year, Netflix produced a few of its own romantic comedies.
In February of 2018, "When We First Met" was released worldwide.
During his best friend Avery's (Alexandra Daddario) engagement party, Noah Ashby (Adam DeVine) recalls the first time he met her and how he lost her to her fiancé (Robbie Amell).
After having too much to drink at the party, Noah admits to Avery's other best friend (Shelley Hennig) that he has been in love with Avery since they met on Halloween three years earlier.
He ends up at the piano bar he works at and stumbles into the photo booth, the same one he took Avery to three years ago.
Throughout the film, Noah keeps returning to the "time traveling photo booth" to try to get Avery to fall in love with him.
A few months later, on June 15, Netflix released "Set It Up."
The film follows two overworked assistants (Zoey Deutch and Glen Powell) who try to set up their demanding bosses on dates in New York City.
When the two meet, they argue to see who has the worst boss.
After some time, the two try multiple tasks to get their bosses together and off their backs, a few backfiring.
When they finally get them together, how long till they realize they've been set up?
Although Netflix has not released any new romantic comedy films in 2019, the year is still young.
OLIVIA HAHNER
[email protected]