Muse's 'Simulation Theory' is not worth the time or energy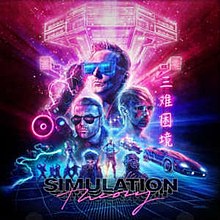 The legendary English alternative and space rockers, Muse, are back with their eighth-studio record, "Simulation Theory," and it seems they are digging themselves deeper and deeper into a hole that is getting harder to plausibly escape from.
The group doesn't need much of an introduction since they are one of the leading bands in the rock scene, and to be honest, they really shouldn't be.
I wasn't anticipating much from the group since their 2012 and 2015 records "The 2nd Law" and "Drones" both saw the band diving deeper into this synth-heavy, space rock sound they incorporated extremely well in their 2001, 2003, 2006 and even their 2009 records.
By now, however, this sound is starting to get stale and Matt Bellamy sounds more awkward than ever, singing over these '80s-drenched synth leads that don't require hard rock fuzzed instrumentation wrapped around it.
It sounds like the band watched the television show "Stranger Things," listened to the phenomenal sound track and wanted to do it themselves.
But instead of being influenced by it, they honestly copied and pasted the sound in every track on the record with some exceptions here and there.
Some of those exceptions are on the opening track, which is a decent attempt on a synth-driven progressive rock song that creates a strong soundscape and almost impressive sounds.
Also take the track "Pressure," which in all honesty is the best track the group has written in years.
It's a powerful, energetic, groovy and somewhat heavy track with a good balance between '80s synth rock, '80s power metal and '90s industrial.
However, from there this record goes deeper and deeper down the rabbit hole.
Tracks like "The Dark Side," "Propaganda," "Something Human," "Get Up and Fight" and "Dig Down" all paint this picture of a singer who is losing his touch with what his band wants to do.
Each track represents a more awkward showing between the three-man group.
The drums are all lackluster, the synth grooves are uninspiring and the vocals are painfully cringe-worthy.
Then there are tracks like "Blockades," "Break It to Me" and "The Void," which see the band still trying to grab at a sound they did back in 2001, but with the time, the sound and style doesn't quite age well.
The worst part about this record is the lack of control the band seems to have.
At this point, the band seems to be fine with incorporating any generic and subpar melody, groove and/or beat they can get their hands on to and I don't think they will be able to ever reach the sound they used to be known for.
In conclusion, if you are a fan of their last two records, you might enjoy this, but otherwise I would skip this record because of the lack of coherence from the band and the lead singer, so I must give this a 1.5/5.
Happy listening, Gannon University!
ALLAN COLLINS
[email protected]