Adios and vaya con dios everyone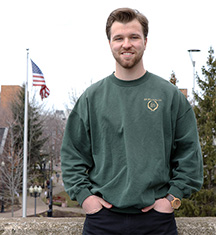 It's that time of the year — time when we all fight to the finish line to get our projects done, do our best on tests and find time to make our way to Sara's for a milkshake.
I know I'll be trying to come to Erie whenever possible after I graduate to get to Sara's and maybe spend some time at Presque Isle.
However, there's a lot to miss, whether it's for summer break or to move on to the next chapter of our lives.
From our friends, to professors and extracurricular activities, saying goodbye isn't always fun. But, in a situation like this, it's good to look at the optimistic side of things.
Just think, those of you who will be returning to campus get to take a break, smell the roses and recharge your batteries for the next year.
For those of us who are moving on, we get to experience more education, maybe at Gannon or elsewhere. Others get to move on to a job and put their degree to work, and still others will continue marketing themselves, submitting resumes and networking in hopes of landing that first job.
Either way there are new goals to accomplish and new chapters to be written in our lives. Despite the excitement that the future might hold, leaving Gannon will weigh heavily on many of our hearts.
It's not a bad thing; it just means coming here meant something to us. We have established ourselves here in the Gannon community. Moving into something new is always difficult, but it doesn't mean we can't come back to Gannon.
Some of us might still be in Erie even after we graduate. Who really knows?
The important thing is that we made something of our investment in education at Gannon and that's what's going to be the building blocks in the future.
Personally, my classes, The Gannon Knight, WERG, professors and mentors are all helping me as I pursue my next chapter.
Some of those people I've been privileged to have worked with every Tuesday in The Knight office assembling the newspaper.
I was lucky to work with such a fun, hardworking and talented staff. So thank you to everyone involved with the 24 issues we put out, from editors, writers to the Corry Journal, which prints the papers each week. Your effort is appreciated and it was a lot of fun.
Also, thank you to Frank. You're the guru of journalism and have been a great adviser to the paper and me, and an awesome friend. I've learned a lot from you and if I'm lucky to write after college, please agree to still edit my stories. Lord knows I'll need it.
Someone else I'd like to thank is Ann Bomberger, Ph.D., an associate professor in the English department and the director of the Honors Program. If it weren't for your initial push, I wouldn't be where I am today in journalism, so thank you for your help.
Lastly, thank you to my family and friends for supporitng me for my whole life and during my time at Gannon. Without you I wouldn't be where I am today. Also, it would have been a lot harder if you weren't there for me, so thank you so much.
I am lucky for the opportunities Gannon has offered me and how it has set me up with the tools of success going forward.
I have had an incredible support system here and I'm fortunate to have attended Gannon.
Thanks to all of the readers of The Knight for your continued support. I hope you enjoyed it, because I know I did.
BRANDON JACES
[email protected]