Editor appreciates homeyness of Gannon's campus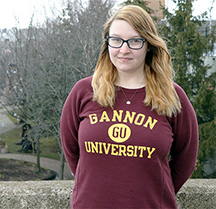 Believe it or not, we only have one full week of our normal class schedules left for this academic year.
If that sentence itself made your heartbeat speed up and your hands start to tremble, you aren't alone because I feel the exact same way.
Being so close to the end of the school year always makes me feel a weird mix of anxiety and bittersweet feelings.
It feels like I only stepped foot onto Gannon's campus during a tour last week, but I am currently working through my last few weeks as a junior.
People aren't kidding when they say that these years go by faster than you think.
It feels like the last few years have flown by.
A part of me is excited to be done in just over a year, but the other part of me is terrified and would do anything for more time on Gannon's campus.
There is a sense of familiarity I think we all begin to feel once we have spent so long on campus.
There are faces that we learn to recognize and love around us.
There are places on campus that feel safe and like home to me.
Knowing that I only have one more year here on campus is an extremely bittersweet feeling.
I cannot even begin to imagine how my friends who are graduating at the end of this semester must feel right now.
It is scary to know that in one year, I will basically be on my own without the familiar faces and places around me that I have called my home for this very important part of my life.
Gannon has become a home for me and many of the other students who study here.
It is not only the place we learn and grow academically, but a place we grow emotionally.
Gannon allows for the same amount of personal and academic growth, and I believe that is important to find in a university.
Although I will remain on campus for another year, I will be saying goodbye to some of my closest friends in only a few short weeks.
It will be difficult to walk around campus next semester and not see people I have grown so close to over the past three years, but I am excited to see where they all go and how they go on to use all of the incredible knowledge they have gained.
It is bittersweet because I will be losing a huge support system I have had on campus, but I am looking forward to seeing the people I care about move on with their lives and go on to do great things.
It is easier to ignore the fact that my friends only have a few weeks left here on Gannon's campus while everyone is fully immersed in working on final projects and papers, but I know the reality will set in sooner or later.
Knowing that I will be in their shoes in just one short year makes me both excited and nervous, as I will be leaving friends once again when it comes time for my own graduation day. But as for now, I am trying to focus on the now.
HARLEE BOEHM
[email protected]