New Kacey Musgraves album, 'Golden Hour,' glitters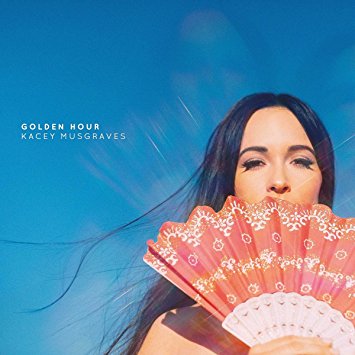 KYLE JOSEPH
features editor
Singer Kacey Musgraves returns to the country music scene with "Golden Hour," a genre-bending, characteristically rebellious triumph of innovation and disobedience that sees Musgraves continuing to rewrite the rules of country music.
In 2013, the same year Musgraves won the Grammy Award for Best Country Album for her major-label debut, "Same Trailer, Different Park," fellow country star Eric Church made ripples in the music industry by claiming that genres were dead. Five years later, nothing could be truer when attempting to describe Musgraves' third studio album.
Known by now as a nonconformist in a conservative mainstream-country radio climate dominated by men — famously championing LGBTQ rights and preaching the Golden Rule in her hit "Follow Your Arrow" and making more than a few references to marijuana on her sophomore effort, "Pageant Material" — Musgraves' latest album is not just further proof that she can hang with the boys, but that she's leaving them in the dust. And no, male country stars, that's not just another tired "dirt road" reference.
On "Golden Hour," Musgraves — who is the primary songwriter of every track, a rarity in country music today — sings about a variety of topics, the most common being love. Following a year in which she married fellow singer-songwriter Ruston Kelly, it's no surprise she lets her guard down on romantic songs like "Butterfly" and "Love is a Wild Thing." The latter features little more than Musgraves on the acoustic guitar comparing love to the beauty of nature, a correlation not completely unheard of in country music, but she makes it her own.
"I used to be scared of the wilderness, of the dark, but not anymore," she sings.
Still, that's not to say that Musgraves completely leaves by the wayside the edgy, hippie, outlaw image she's been strutting since her emergence on the Nashville music scene. In "Oh, What A World," a song that can only be categorized as "psychedelic country," if that can even be comprehended, she asks listeners to open their minds to the "magic all around us," citing the northern lights and things that "swim with a neon glow." It's not too difficult to guess where her inspiration may have come from, especially given her history, but she goes even further to challenge the conventions of country with a line like, "How we all got here, nobody knows."
"High Horse," a disco-inspired tune bearing little, if any, resemblance to traditional country music, is another track that makes the album so accessible to those who have been turned off by mainstream country this decade. Her wit is undeniable as she tells a conceited cowboy to get off his "high horse" because he's no John Wayne, half-satirizing another country stereotype — something she's always done extremely well and tastefully. Without disrespecting her roots, she makes it known that country music's sound isn't confined to its limited, figurative stable, and that poking fun at tradition is OK.
The title track is also a standout, but what's ironic about Musgraves' experimental masterpiece is that perhaps its best song, "Slow Burn," is the most "country" of its 13 tracks. A quiet, honest acoustic ballad, the song allows Musgraves to give an autobiographical reflection on her willingness to have patience both at home and in her career, the latter of which many fellow female country artists can likely relate to.
With the release of "Golden Hour," hopefully that patience will pay off and Musgraves begins to receive the attention she rightfully deserves for being on a different planet creatively than most of her male counterparts. But then again, she doesn't seem like the type of artist that needs that kind of recognition — her inspiration takes root in her own artistic integrity rather than an obligation to pander to the country music faithful. Either way, "Golden Hour" is the country album to beat this year, and the likelihood of that happening is the same as finding a needle in a hay bale.
KYLE JOSEPH
[email protected]