Logic releases 'Bobby Tarantino II'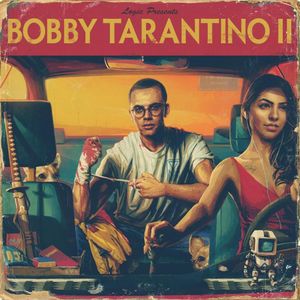 MATTHEW FASSNACHT
staff writer
Logic and his numerous alter egos have been on a wild ride over the years that range from preaching to flexing things like money, his wife and numerous cars — much like a typical "mainstream" hip-hop album would.
Although Logic has established himself as never one to flex and keeping to himself, "Bobby Tarantino II" is a refreshing breakaway from the topics of political justice and answers to questions about his race that his most recent albums "Everybody" and "The Incredible True Story" have turned to.
Logic as his alter ego Bobby Tarantino is an attempt to scrape at the mainstream hip-hop charts as well as give himself, and us, a break from the serious nature.
The album has already succeeded with every song making the Spotify Top 25 Charts in its first week.
"Bobby Tarantino II" has also projected to top the Billboard 200 Chart with 125,000 album equivalent sales, 32,000 of those being pure sales.
After the debut of "Everybody," which featured the hit song "1-800-273-8255," caught flack on social media for being "overly woke" and "corny," Logic reaped its success as it hit No. 1 on the Billboard charts selling "more albums his first week than Harry Styles and Katy Perry," according to Bobby on his first single "44 More."
Logic took the criticism and produced another tape for what the casual hip-hop fan would want: club-songs and diss-tracks with well-known features.
This album is a great sequel to the first installment,"Bobby Tarantino," which was successful, but had its fair share of flaws amongst its anthem bangers tossed in with several introspective lyrics that seemed as if Logic was questioning himself as an artist.
"Bobby Tarantino II" takes original Logic fans back to the days of early YouTube montages and the strictly lyrical alter ego of Young Sinatra.
With features from the likes of Big Sean, Wiz Khalifa, 2 Chainz, Marshmello and Young Sinatra himself, "Bobby Tarantino II" is a healthy mix of the good from the first tape and improvement through self-awareness.
So much so, that the first track, "Grandpa's Space Ship," is a scene from the popular animated series "Rick and Morty" where Rick and Morty are discussing what they should listen to on their trek through space.
On the track, Rick questions Morty on whether they'll be listening to "Album Logic" or "Mixtape Logic" and goes on to state how they are two completely different spectrums — hinting that Logic is aware of his biggest criticisms.
The most underrated MVP of this tape, however, is Logic's producer 6ix.
6ix has been by Logic's side from the beginning and has been one of the only people in hip-hop who has been as consistent as Logic over the years.
In a sample-heavy mixtape, 6ix cut up samples from Future, Nas, Kanye West, Erykah Badu and even from Logic's past mixtapes for a consistent, replayable and "something for everyone" high-octane theme that touches on every mood from wanting to mellow out with Wiz Khalifa in "Indaca Badu," to taking down every diss-track against him in "Yuck."
HIGHLIGHTED TRACKS
"Warm it Up" featuring Young Sinatra
"Warm it Up" is an ode to Logic's past, combining two of his fan-favorite alter egos. Young Sinatra is the rapid-firing lyricist fans first grew to love on "Young Sinatra: Welcome to Forever" and Bobby Tarantino is the turn-up version of Logic with catchy hooks. If you were a fan of Logic's first series of mixtapes, you'll enjoy this.
"Yuck"
"Yuck" is a diss-track to combat all the diss-tracks targeted toward Logic over the years. It has been said the track's main target was Joyner Lucas, who has been taking shots at Logic on his way into the spotlight ever since the 2016 song "Siracha" with Tech N9ne, as Joyner believed Logic wasn't happy to be on the track with him. Logic lets his success speak for himself with the line "Peace, love and positivity that's all I want with you. But you push the issue because I give you more press than your publicist could ever get you" and drops the mic with a voicemail from Elton John asking to work with him.
"Contra"
"Contra" is the first track on the album that fully captures the idea of Bobby Tarantino as a platform used to flex his success. "Not a single person work harder than Bobby. Just wrote a novel, starrin' in a movie, built another business while you at the party. Ain't one to flex, but yeah I'm finna flex I just parked the new i8 right next to the Audi. Copped the G-Wagen right there for my shawty" speaks for itself.
MATTHEW FASSNACHT
[email protected]