Gannon students work Super Bowl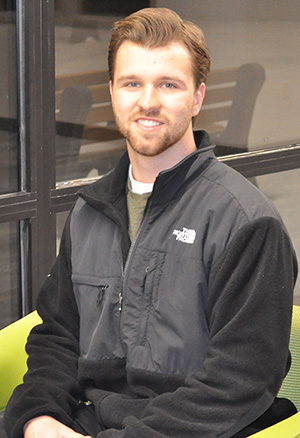 Some Gannon University students were able to do something recently that most people will only dream of doing in their life – go to the Super Bowl.
Ten students had the opportunity to spend six days in Minneapolis, which led up to volunteering at the game.
Santiago Mendez, a senior sports management and marketing major, said they were able to see the Mall of America, tour the University of Minnesota's football stadium and recreational facilities, see a Timberwolves game and visit Target Field — home of the Twins.
Mendez said when the group visited the Mall of America they saw Marcus Mariota, DeShaun Watson and Floyd Mayweather, among others. "We also went to see the NFL Experience where we could participate in throwing the ball, 40-yard dash and witness the NFL show 'NFL GameDay Prime,' where we saw Deion Sanders and LaDainian Tomlinson, and Jimmy Butler was a guest on the show," Mendez said.
Martell Davis, who is also a senior sports management and marketing major, said the Gannon group was hired by the NFL to host a private event/party for current and former NFL players, coaches, top executives and NFL sponsors and partners such as Verizon, Bose and NFL Media.
Davis said his favorite moment was seeing Payton Manning, someone whom he has looked up to since he was a kid, talking with one of the best running backs he's ever watched, Jerome Bettis.
"I have a funny video on my phone of me recording a Snapchat and bumping into 76ers star Joel Embiid on video all at the Super Bowl," Davis said. "However, I enjoyed every moment of the trip very much and have so many awesome, funny, knowledgeable and all-around great memories."
Geremy Paige, a senior sports management and marketing major, had two favorite memories from the trip that included a roller coaster and a picture.
"For starters, the first time we entered the Mall of America we were at the amusement park section," Paige said. "I had to ride it as soon as possible because I thought, when was the next time I would be able to ride a rollercoaster in a mall. Another one would have to be getting a picture with Ryan Clark and standing right next to DeAngelo Williams. This was special to me because I'm a huge Steelers fan and it was just great to see them."
Frank Nigro, another senior sports management and marketing major, said he met some great people while watching the game.
"My favorite memory besides the actual game would have to be working the NFL House and meeting an amazing staff at GMR Marketing," Nigro said.
As if going wasn't enough of a perk, the group was paid and also received free shirts, hats, a jacket, a vest and a lot of other merchandise.
The consensus among the four young men was, if you have the opportunity to go to the Super Bowl, go and make sure you make some connections along the way.
"Definitely go meet and network — there are so many people from all over the world who share the same passion as you and look forward to working with young motivated individuals such as ourselves," Davis said.
BRANDON JACES
[email protected]