Buffalo hosted job fair Saturday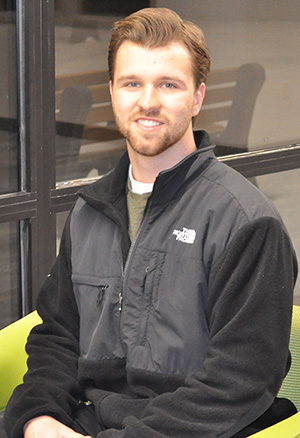 Saturday was a big day for me for two reasons: I attended a job fair and I saw the city of Buffalo, N.Y., which is so buffaloved by many Gannon University students.
The job fair was great. I met with many people in the communications biz from television to radio and gave out some of my info, including my resume, in hopes that they would give me a call.
Going into the fair I was pretty nervous and my biggest concern was, "What the hell do I say when I meet these people?"
As I walked in and caught a glimpse of the room, I discovered that it was just a folding table separating me and a potential employer – just enough distance to really fudge things up.
When the clock struck 11:10, the Gannon gang of communications students, as I just dubbed our group of six, strutted our stuff into the conference room at the Millennium Hotel of Buffalo. In case you were wondering, I'm sure people were impressed by us. They didn't say that, but I'm sure they were.
After we got our bearings and met with a table my nerves calmed down and I realized that the representatives of each station were happy to talk. All you had to do was say hello, shake their hand and start a conversation, and it was in God's hands after that.
Once I finished my first interaction, I met a guy who is a professor in the field of communications. He worked for many years as a reporter and had some good advice.
I immediately looked up to this man for his wisdom, but there's a better reason why I regarded him so highly – he is who I envision Will Ferrell's character in "Anchorman's" dad would be.
He had a red corduroy blazer, blue shirt, tie, khaki pants, well-coiffed white hair and a mustache.
He fit the role perfectly and his style was "on fleek," as the cool kids say nowadays.
His level of class and swag is what I hope to reach when I am older, and I hope I have an equal or greater career as he has had.
He stood out from the crowd, was highly sociable and there's no doubt in my mind that he could be Dos Equis' most interesting man in the world if he would have entered before Augustin Legrand.
Luckily he didn't so that he could be at this job fair and inspire the minds of young and aspirational communications majors with his wisdom and style.
As I pursue my goal of becoming a broadcaster, I will take what he told me, which is to get your foot in the door and move up from there.
He coupled that with an example of a former student of his who did the same thing, and with my newfound inspiration I took on the job fair.
Overall, I found the experience highly beneficial and I would recommend people of all majors and job backgrounds attend job fairs when they can.
I'd be surprised if you didn't get something good out of it, whether that's a connection, advice or experience talking with other professionals in your field.
Between a great experience and a pretty nice city, I would say I enjoyed my time in Buffalo Saturday.
BRANDON JACES
[email protected]