Alumni, faculty to star in play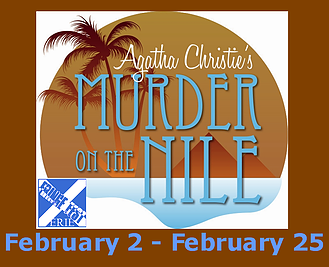 OLIVIA HAHNER
staff writer
Watch out, Erie. For the whole month of February, only one topic will be circulating around the All An Act Theater, and that is "murder."
The All An Act Theater presents Agatha Christie's "Murder on the Nile," the adaptation of the novel, "Death on the Nile."
The production will be directed by Larry Lewis. Under Lewis' wing is an all-star cast, including multiple Gannon University alumni and Steve Ropski, Ph.D., a Gannon biology professor.
The show follows the life of successful socialite, Kay Ridgeway. She leads a charmed life and is blessed with beauty, enormous wealth and a new husband.
After marrying, the couple decides to embark on a honeymoon voyage down the Nile River.
However, fatal circumstances await when her dream trip turns into a shocking and brutal murder scene.
Under scrutiny is a multitude of memorable passengers, all with a reason to kill.
The tension builds as a shocking and audacious conspiracy is laid bare.
Be sure to keep an eye out and uncover who had the motive to murder.
The show will run every Friday, Saturday and Sunday from Feb. 2-25. Friday and Saturday shows begin at 7:30 p.m. and Sunday shows begin at 3 p.m. However, these dates exclude Feb. 4 due to Super Bowl Sunday.
Tickets for adults are $12, students and seniors 55 and over are $10 and children age 6 to 11 are $5.
For anyone who attends on Feb. 23, a portion of the proceeds will be distributed to help benefit Gannon University's Fringe Fest.
Along with that, $1 of every admission will also benefit Community Shelter Services and Erie's homeless.
For more information, check out https://www.allanact.net/now-playing.
OLIVIA HAHNER
[email protected]