Kennedy Catholic's new president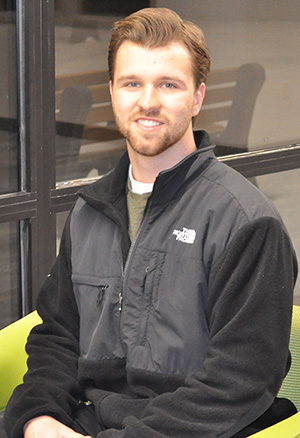 A familiar face in the Gannon University community commonly seen in the theology department or enjoying dinner in Beyer Cafeteria while reading a good book or a reading for a class, recently received a promotion outside of Gannon.
The Rev. Jason Glover, who has been at Gannon since 2007 and involved with the club hockey team since 2011, has been named full-time president of Kennedy Catholic High School in Hermitage, where he has served as interim president since the summer of 2016.
After meeting with the Most Rev. Lawrence T. Persico, bishop of Erie, seven months ago about balancing his duties at Gannon and as interim president, Glover asked if he could serve full-time at Kennedy Catholic and be relieved of his duties at Gannon.
"Thankfully, he agreed with some caveats, and was very appreciative of my willingness to leave an assignment that I cherish and that has been very rewarding over the past 11 years of my priesthood in order to assume the presidency of Kennedy Catholic," Glover said.
As of Jan. 1, Glover was named president of the Kennedy Catholic Family of Schools; however, he will still teach one class per semester at Gannon. Currently, he is teaching Theology of Moral Responsibility on Monday evenings.
While Glover is excited to be full-time at Kennedy Catholic, there is a part of his heart that he will have to give up at Gannon — coaching the club hockey team.
As author Wayne Coffee once said, "Hockey is a club that holds its members tightly, a bond forged by shared hardships and mutual affection, by every trip to the pond, where your feet hurt and your face is cold and you might get a stick in the ribs or a puck in the mouth, and you still can't wait to get back out there because you are smitten with the sound of blades scraping against the ice and pucks clacking off sticks, and with the game's speed and ever-changing geometry. It has a way of becoming the center of your life, even when you are not on the ice."
Brought on as an assistant to the team in 2012 to help with its financial issues, Glover never imagined his involvement going beyond that.
However, to his surprise he would stay with the team from 2012-2018.
"I agreed, quite reluctantly," Glover said. "I never coached a game until the fall of 2012 – Sept. 28, 2012, to be exact, when we defeated Wheeling Jesuit, 13-1, at the Erie Insurance Arena. Not bad for my coaching debut."
Little did he know at the time that he would lead the team to an undefeated season in its conference that year.
Glover doesn't expect to leave the team completely. Players can expect to see him hanging around the rink, as a possible general manager or hopefully lacing up the skates and knocking them around on the pond.
Senior hockey superstar John "Johnny Hockey" Roberts said it's sad for the players who have had Glover as coach leave after playing under his leadership for four years.
"We've grown close with him and he has worked wonders for the program, and the strengthening of the team," Roberts said.
Luckily, Glover will still grace us with his presence three times a week for class and he has been allowed to finish out the season as the head coach of the hockey team, but soon that will be cut down to once a week after this hockey season.
Glover said the decision to no longer coach the team after this season weighed heavily on him, but he said he has taken the team as far as he can, which included being invited to the most highly recognized non-NCAA national league — the American College Hockey League (ACHA).
While he will no longer be coaching the team, he provided many successes during his time on the team, and Glover still has aspirations for the team.
"I guess I'd love to see this team, one day, actually win the national championship," Glover said. "I'd also like to get us into an outdoor pond hockey tournament; I think that would be fun."
I would like to thank him for all of his help to me as a sports writer. He always gave me 110 percent effort through communication and the dissemination of information. In similar fashion, he did that for this column, and I thank him for it. I wish I had more than 550 words to include it all.
So thank you, professor, coach and Father Glover.
BRANDON JACES
[email protected]