Many reasons to be thankful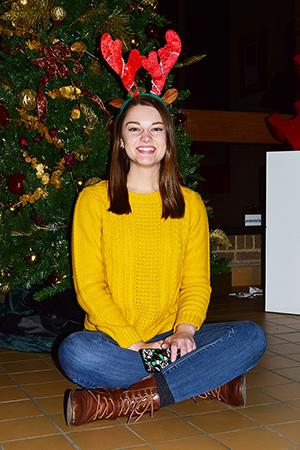 Thanksgiving is a weird holiday when you stop and think about it.
Once a celebration commemorating friendship and gratitude between the pilgrims and the Native Americans, the holiday has turned into a day dedicated to stuffing our faces, watching football and taking naps in the name of thanks.
Don't get me wrong, I love Thanksgiving. There is no other day of the year where it is socially acceptable to overdose on turkey and mashed potatoes before normal dinner time, and I take full advantage of all the perks associated with the holiday.
It just seems like each year the holiday becomes less about actually feeling thankful and more about the random things associated with the day like parades, football and now Black Friday.
If Thanksgiving is the day that we're really supposed to feel the most grateful, then Thanksgiving for me happened a week prior to the actual calendar holiday.
OPEN, a Gannon University organization dedicated to creating social change in the Gannon and Erie community, annually participates in Hunger and Homelessness Week.
One of the outreaches associated with the week-long event is the Basket of Blessings project.
Students who participated in Basket of Blessings collected and delivered baskets filled with food, clothing and other goods to refugee families in Erie the weekend before Thanksgiving.
This is the second year that I have participated in the Basket of Blessings project and this year's delivery gifted me an appreciation that no holiday meal could match.
The baskets my group delivered were for a Syrian family living on Erie's East Side. The family had 10 members, eight of whom were children including a newborn baby and a disabled toddler, living in an extremely small two-bedroom apartment.
Many of the children in the family likely sleep on the living room floor, indicated by mats and makeshift beds that we noticed lying about.
Although their space and resources were limited, the family graciously invited us into their home and offered us snacks and tea.
Our ability to communicate was limited since the family had only been in the U.S. for a few months, but I found comfort in the fact that we were able to still connect through coloring with the children and shared laughs and smiles.
I didn't need to speak their language to tell that this family was grateful to be where they are — they are together, safe and seemingly happy to be surrounded by each other's company.
Despite their living situations being less than ideal from my standards, it was enough for them and it probably was a lot better than the places or refugee camps they lived in prior to coming to the U.S.
I left their home feeling appreciative for the many privileges I have in my life, but also appreciative for this family's journey and the journeys of other refugee families like theirs.
Refugees deserve all the respect in the world for the things they've been through. I think a lot of the people who have hostility toward refugees or support immigration bans would change their minds if they sat down and actually met a refugee.
Although we speak different languages and have different experiences, we are still all human beings and more or less the same in many ways.
The ability to connect with refugees and embrace humanity through projects like Baskets of Blessings gives me faith and thanks in such globally uncertain times.
OLIVIA BURGER
[email protected]