PTSG Hot Take: Five reasons why pro wrestling is lit again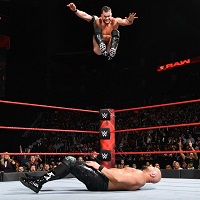 All right, so just hear me out…
I've been a wrestling fan since I was little, so I am already aware that a most people don't care for pro wrestling. A vast majority of my friends, whenever I talk about wrestling, automatically tune out or make fun of me for the same things and we're just going to address those issues straight up right now.
Before you even go there, yes, I am aware wrestling is scripted. The matches are predetermined, the storylines follow a literal script and obviously I know the wrestlers pull their punches. The whole reason I am still watching and reading things about wrestling today is because I don't care if it's scripted — they never said it wasn't.
The WWE and many other companies label what they are doing as "sports entertainment," which is the perfect way to describe it. Wrestling, just like any other show is there for entertainment purposes and I am more entertained by the recent developments in the world of wrestling than I think I ever have been.
You get into wrestling the same way you get into any other show: you understand it's a storyline and you follow it, you watch for the dramatic and action-packed moments and you end up picking which characters are your favorites — and which ones you hate.
After it's all said and done you are watching the show to be entertained just like any other show. When you throw all of the "It's fake" or "It's for kids" stuff out the window and just sit down to watch an episode without criticizing it, then it becomes a great time.
Some of your favorite wrestlers are STILL going
So, this is the part where I try to hit the demographic of people who used to watch wrestling and just stopped because — let's face it — wrestling became a not-so-cool thing to talk about your freshman year of high school.
Now I know a lot of people like that and I'm constantly asked, "Does this guy still wrestle?" and most of the time it's a no. Wrestling puts some wear and tear on a person's body; not everyone can do it successfully for a long period of time. This is true now more than ever as the style of wrestling has become more intense and hard hitting than it used to be, which was simply pulling a few punches.
That being said, some of your favorite wrestlers from a decade ago are still killing it in 2017. Shane McMahon has become the commissioner of SmackDown and over on Monday Night Raw the general manager is the Olympic gold medalist and one of my favorite wrestlers of all time, Kurt Angle. Triple H and John Cena are also still wrestling and cutting amazing promos, just like it's 2006.
The biggest name that a lot of people should know is "The Beast Incarnate" and former UFC Champion Brock Lesnar, who is the WWE Universal Champion, which is equivalent to being the World Heavyweight Champion. Those guys are all still doing fantastic work and it's the perfect time to get back into watching WWE before most of these guys hang up their boots for good.
The New Talent
With WWE creating NXT, they are able to work young and new talent to the standards of being in the biggest wrestling company in the world. The new talent that made its way to the company includes many of the best wrestlers in the world.
Coming from someone who has been intently watching wrestling for years, most of these wrestlers are better performers than most of the WWE wrestlers of the last seven years. Finn Bálor, Shinsuka Nakamura and Samoa Joe each have put together match-of-the-year candidate efforts and that's being outside the WWE.
Kevin Owens and Sami Zayn are real-life best friends and they used to do house show after house show touring Canada until their names were called to join the billion-dollar corporation. Finally, there is AJ Styles, who has been in the top five of most popular wrestlers in the world for the last decade. No one ever expected to see someone like Styles sign with the WWE because of his love of touring the world and performing at indie shows, but now he is WWE Champion and still one of the best in the world.
The Women's division doing a whole 180
It's almost cringeworthy to look back at the women's division from before 2013. The storylines were demeaning, the glass ceiling was painfully real in the company and female wrestlers were signed based on their looks and sexual appeal rather than talent to compete inside the ring.
The best change that the WWE has made was to get rid of that way of handling this division and signing more talent early to develop their skill in later years. Now we have women doing moves and setting up spots that people have never seen before.  Wrestlers like Becky Lynch, Alexa Bliss, Bayley, and former Japanese superstar Asuka get better reaction from the crowd than most of the male wrestlers on the roster.
The biggest name and best competitor currently in the women's division though is Charlotte Flair. For those who don't know, she is the daughter of former 16-time World Heavyweight Champion and possibly the greatest of all time, Ric Flair. Having to compete with that name tied to your character is a huge risk because expectations are so high, but Charlotte — along with the other women wrestlers — has proved that pure talent is not something you find in just one of the two genders.
It's the best time of year to start watching again!
With Sunday's upcoming pay-per-view we will see a full weekend of matches that have the potential to be the craziest, biggest and most exciting times in WWE history. The card has been set for NXT on Saturday as it has its own show in Houston.
Watching NXT is equivalent to watching college football in the sense that all these performers are trying to impress the higher-ups enough to receive a contract on the main roster. So, you can already expect that these younger superstars are going to sell out.
Along with that we have one of the big four PPVs of the year: Survivor Series. This is the PERFECT way to get back into wrestling because the PPV is set up in its classic fashion; you have the biggest names on Monday Night Raw taking on the best that Smackdown has to offer in the battle of brand supremacy.
This is one of the greatest cards in years that the company has put together. Every November this PPV happens, which sets them up for the rest of the WWE season. Royal Rumble is just around the corner in January and then one of the biggest PPV buys of any company for the year, WrestleMania, is set on April 8.  Added bonus to point number 2, it's in the rumor mill that the Undertaker will be competing in his last match at this WrestleMania and will also be inducted to the Hall of Fame as well.
Pro wrestling is one of the most underappreciated things on your TV each week. The ratings still show that it has a regular audience of millions of people each week watching just in America. It may not always generate as much excitement as a new season of a show on Netflix coming out or a huge season finale on TV, but just like other shows wrestling has its moments where pure excitement is on an intense incline. 2017-2018 is definitely one of those times and I wouldn't have written this article if it wasn't.
When fans get together to watch games or shows it adds to the excitement, and bringing your friends together to watch a show with crazy storylines and scripted wrestling matches may sound weird, but I promise you it's a fun time.
MATTHEW NEWARA