NCAA medical officer addresses gathering on concussion study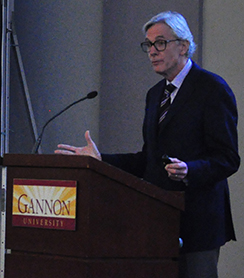 Brian Hainline, M.D., the chief medical officer of the National Collegiate Athletic Association, addressed a group of Gannon University faculty and students regarding concussion awareness Tuesday in the Yehl Ballroom of the Waldron Campus Center.
Hainline's lecture was the second part of a speaker series on concussion awareness presented by the university's Master of Athletic Training, Sport and Exercise Science, Psychology and Physical Therapy programs and the Human Performance Lab.
Hainline, who oversees the NCAA Sports Science Institute, spoke to the gathering about ongoing research being conducted by the NCAA and the Department of Defense that is aimed at enhancing the safety of student-athletes and service members.
The three-year, $30 million study is considered by some to be the most comprehensive investigation of sport-related concussion to date.
The NCAA hoped to enroll an estimated 37,000 NCAA student-athletes over the three-year study period.
Researchers hope to gain critical insight into the risks, treatment and management of concussion, and change the culture of concussion reporting and management.