Jonesing for a strong team finish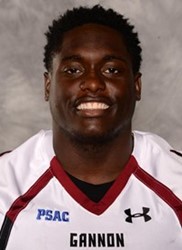 Besides The Gannon Knight, you will find Gannon University junior running back Marc Jones in your second favorite publication — Sports Illustrated.
This is well-deserved because if you hadn't heard by now, Jones is leading the NCAA in rushing yards with 1,802 after Saturday's game against Indiana University of Pennsylvania.
Now, if you go and pick up the latest edition of Sports Illustrated and flip to the section titled "Faces in the Crowd," you will see Jones' face there with a short write-up.
In case you didn't know, that section is on Page 22. It's not every day that someone from your school ends up in Sports Illustrated.
In fact, Jones said he didn't know about being in the magazine until he walked into class and everyone clapped. I mean it could have been for anything. After all, the guy's a star — just keep reading and you'll find out why.
The player closest to Jones' level of production is Division I Stanford running back, Bryce Love.
According to Stanford's athletic website, Love is a 2017 Heisman Trophy candidate and has a total of 1,387 rushing yards to Jones' 1,802.
An article on Gannon's athletic website said that Jones is also leading all divisions in rushing yards per game with 213.9 and rushing touchdowns with 21.
Jones also had two record-setting performances this year. One of them was the team's 47-25 Homecoming victory over Edinboro when he rushed for 261 yards. The second was against Slippery Rock, and it is Jones' favorite memory from the season so far.
"I had a lot of family that showed up at that game who had not seen me play in college up until that point," he said.
Jones broke a PSAC record for single-game rushing yards with 354 in that game.
While Jones enjoys receiving the notoriety for his accomplishments, he didn't neglect those who helped him get where he is now.
"The offensive line, (receivers) Nico Law, Tyler Palka, Dontae Owens and Brendan Klemensic do a great job week in and week out blocking and just opening things up," Jones said.
Jones also attributed his success to his cousin, Tray Smith, who passed away in January.
Jones mentioned the benefit of playing under last year's starting running back, Tyler Johnson.
"Last year was a lot different compared to this year," Jones said. "I learned a lot playing behind him, and I got to understand the offense more. Now he's my coach, which is even better. He's a great guy to be under."
Gannon was not Jones' original collegiate destination, as he first attended the University of Findlay in his home state of Ohio. Jones credited teammate Jay Bullock and coach Jack Abercrombie for bringing him to Gannon.
"I had a family issue that caused me to have to be closer to home," Jones said. "They both reached out and did their part to get me here."
I think it's pretty cool to be at Gannon and to be the sports editor when the first-ever Gannon student-athlete was featured in Sports Illustrated. It's even cooler to say he's from my hometown of Painesville, Ohio.
Now people from Pennsylvania can stop hating on Ohio. You might have a better football team, but we have Marc Jones.
BRANDON JACES
[email protected]