Presque Isle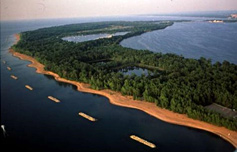 Erie's beloved Presque Isle State Park was rated as a top attraction in a USA Today poll two years in a row. With over 4 million visitors per year, it is obvious people love the beaches, trails and of course, Sara's.
Now, the state of Pennsylvania wants to know your thoughts on the park and other state parks, and it's using a survey to gather information.
The survey consists of many questions, regarding the amount of activities and amenities, the cleanliness and how well the park is run, the appropriateness to open resorts on the park property or using lesser populated park areas as reservation for wildlife?
The most important question, in our opinion, is if there should be a one-day fee to go into Presque Isle.
Opening a toll booth at the entrance to the park would ruin it for a lot of people. More than likely it wouldn't cost much to enter, but it would provide an inconvenience to tourists and Erie area residents.
Not to mention, the entrance to the park would become congested with everyone waiting to pay to go into the park.
Lastly, we thought it was a "state park" so wouldn't the fee be added to taxes instead of providing the inconvenience of paying an entrance fee?
Save us the constant trouble and add it to the misery of April 15.
However, it is nice that the state is looking for the users' input on how to make its parks better. While Presque Isle is one of the top attractions in the nation, the state is still striving to make it better.
Presque Isle is one of the best parts about Erie because there is so much to do and it's easily accessible for anyone.
To take the survey type this link into your browser: bit.ly/parks-survey. It's also available at park offices.