Earnhardt emerges from the rubble to race again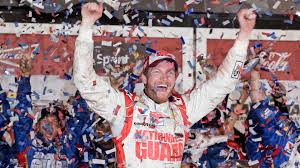 On Tuesday I was talking to my compadre Jordan Fuller about what to write my column on. A lot is always going on in sports, but nothing was striking my eye until I hit the internet.
So we're sitting there eating some steak and rice as we were scrolling on our phones and I won't say who found the genius idea first but one of us did —NASCAR.
Such an underrated sport, but the backbone of American culture. Nothing beats a multitude of laps and left turns at high speeds of vehicles running on American muscle. If that doesn't scream "I love freedom," then I don't know what does.
Ricky Bobby from "Talladega Nights" summed it up perfectly when he said, "I wanna go fast!"
Now you're probably like, Brandon I completely agree with what you're saying and nothing makes my blood rush like NASCAR but what are you talking about bro?
Well, let me tell you. So Dale Earnhardt Jr. is dusting off his old stallion and suiting up to race. Now, there are two reactions to this, either "Oh my gosh he's coming back?!" Or "I had no idea he wasn't racing anymore."
Wake up, sunshine. Earnhardt's back in the saddle, spitting fire and ready to downshift and hit the gas. After 17 Sprint Cup races of retirement, he's coming back, baby!
Earnhardt isn't doing this on a whim; he has motivation. As the defending PIR champ was watching his replacement Alex Bowman Sunday. Bowman led a race-high 194 laps only to finish sixth after a wreck with Matt Kenseth.
Watching this brought back all the nervous feelings Earnhardt had watching his dad, but he hadn't felt that way until watching Bowman race.
He reported to ESPN that he just doesn't understand how fans do it.
Obviously, this man is meant to race and if he's getting nervous to the point of sickness then he must care about it. Despite suffering from a concussion he received in June, Earnhardt still wants to race and has been making steady progress to get better.
I don't know about you, but I'd be a wreck getting behind the wheel.
I remember when I was in second grade my uncle got me a pocket rocket and I saw stars as I crashed it right smack into the grill of his F250 that day.
However, I had a helmet on, which broke, and only came away dizzy and with a scratch on my arm. The bike is no more but his grill went unscathed, I think.
I tried sitting on it later that evening and I was shaking like a leaf as my dad told my mom.
Granted, I was going 40 mph, and Earnhardt and the gang go around 200 I couldn't imagine the nerves.
The man's got guts to get back into it but he's meant to race and he has that fearless confidence we all, well at least I wish to have.
Kudos to you Earnhardt and best of luck on the track.
Remember: gas is on the right, turn left and try and get the inside lane and you'll be golden pony boy.
BRANDON JACES
[email protected]