It could have been worse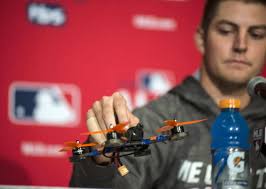 While creating one of modern society's most advanced pieces of equipment, Cleveland Indians starting pitcher Trevor Bauer lacerated the smallest finger on his hand.
In case you missed what I just said, go back and read it again. But otherwise, yes, Bauer cut his pinky working on one of America's most useful pieces of military technology, of the utmost importance to our national security. This precious device is known to many as a drone.
Many of you are thinking, wow, Trevor Bauer plays professional baseball and works on military drones? Talk about a guy who can do it all.
My response to you is that, yes, he seems to be a rather exceptionally intelligent person; he is a pitcher, you know. However, I was at Target on Sunday and saw a drone for sale and I'm inclined to think that he might have been working on something of a much lower caliber than military.
Nevertheless, it was a drone, so at least he hurt it doing something cool and not being drunk at clubs and things along those lines, like other Cleveland athletes who throw things to another person, not to point any fingers. Ha, get it — fingers. Sorry Trevor.
Anyway, luckily the laceration on his pinky doesn't impact his throwing, but it did require stitches so there was concern of them coming loose if he were to pitch.
According to ESPN, Bauer's pinky wasn't giving him any trouble while he played catch on Friday.
However, a pitcher isn't allowed to work with anything out of the ordinary on his hand, no band-aids, tape or shields for example, but umpires confirmed that stitches are acceptable.
He was scheduled to start in game two of the American League Championship Series on Saturday, but the Indians decided to instead throw Josh Tomlin, who was slated to start in game three. Bauer then got the start in Monday's game three to give him time to recover.
Despite the jockeying of starters, the Cleveland Indians were able to pull of a 2-1 win over the Blue Jays Saturday giving the team a 2-0 advantage.
On Monday, the Indians started Bauer, but he was taken out shortly after because his stitches broke open.
However, it didn't throw Cleveland off because it seemed prepared for it.
At the end of the game, the Tribe came out on top, winning 4-2 over the Blue Jays.
Unfortunately, the Indians couldn't sweep the series 4-0 as they fell to Toronto Tuesday, 5-1.
Looking at the score sheet, it looked like Cleveland's team struggled offensively, and the Jays had some timely hits.
Let's hope they can win Wednesday. Anything can happen, like many people have told me. There are two seasons: regular season and postseason.
It's an exciting time to play ball.
BRANDON JACES
[email protected]